Velvac: Keeping Customers at the Forefront of Safety, Aesthetics, and Competitiveness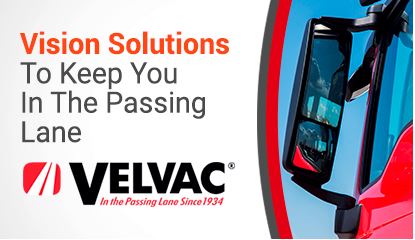 Established in 1934 as the Vacuum Power Equipment Company, Velvac takes great pride in its long-standing industry reputation and over 85 years of experience in manufacturing air brake and valve components for heavy trucks and commercial vehicles. The company's corporate name was changed to "Velvac" in 1940, leveraging its Velvet Vacuum Brakes brand's popularity. Since then, Velvac continually expands its operations and product lines and improves its quality systems to ensure customer satisfaction.
Halfway through the 1950s, Velvac started producing an array of "west coast" mirror heads for the truck manufacturers in North America, making it an OEM supplier of mirrors to General Motors in 1956. This led to Velvac's growth and dominance in producing and supplying vision systems to the North American commercial vehicle market. With its continuous growth and expansion, Velvac now provides the industry with more than 4,500 popular automotive and truck components.
In April 2017, Velvac was acquired by the Eastern Company and is now operating as Eastern's independent subsidiary.
What Velvac stands for
Through the years, the Velvac name has been synonymous with safety, integrity, high-quality vision systems for OE and aftermarket applications, OE-level fitment and functionality, as well as customized visual and safety solutions.
It is Velvac's mission to "improve customer safety and well-being by offering superior products that keep owners and operators… in the Passing Lane." Its commitment to this mission is only getting stronger as the years go by. It is evidenced by the brand's ventures in new product development and the use of advanced technologies and features to improve driver safety and well-being. Velvac's dedication to driving safety paved the way for its well-known and massive selection of proprietary vision solutions and other safety components for heavy-duty trucks, medium-duty commercial vehicles, motorhomes and RVs, bus and transits, and safety vehicles like military vehicles, ambulances, and fire trucks.

Excellent product quality and integrity since 1934
Velvac is one of the few multinational companies with IATF 16949 and ISO 14001 certifications. Its manufacturing facilities have been known for their STPS Level 3 safety and environmental safeguards, while the company's logistics are C-TPAT approved. The company also acknowledges the increasing importance of electronics, vehicle connectivity, software, and advanced vision system technologies in developing its new products. Its assets acquisitions, such as the Qualnetics Inc. in Bellingham, WA, led to the establishment of a new subsidiary company called Road-iQ to accommodate the technological revolution in the vision systems.
Vision solutions for aftermarket and OE applications
Since the boom of the Velvet Vacuum Brakes and the "west coast" mirror heads, the Velvac name has been known for its premium-quality, innovative products and outstanding customer service and support. While it recognizes new technologies for collision avoidance, such as new sensor systems that guarantee better reaction times, the people behind Velvac believe that driving safety relies heavily on a clear view of what lies around the vehicle as seen by the human eye. It continuously designs and manufactures standard mirror assemblies and other components for aftermarket applications. It also develops custom mirror assemblies that meet the exact specifications of truck manufacturers. Velvac OE mirrors offer OE styling, fitment, functionality to help restore driving safety by providing drivers with dedicated views of passing lanes and blind spots around the vehicle.
Customized vision solutions
Velvac upholds exclusivity by designing mirrors that meet the needs and expectations of even the most discerning owners of motorhomes and recreational vehicles. The brand focuses on the product's styling, construction, and convenience features, making it the leading manufacturer of world-class cameras and vision systems for Class A and Class C motorhomes. Velvac's safety solutions are equipped with systems that enhance blind spot detection, making it possible for drivers to respond to emergencies quickly and safely.
Popular product offerings
Velvac supplies its customers with a broad range of proprietary and industry-standard solutions that make this brand the leading provider of vision systems, air and electrical components, fuel products, fittings, and hard-to-find accessories for trucks and commercial vehicles.
Mirrors
With their ideal blend of style, quality, and functionality, Velvac mirrors have become the standards for medium-duty and heavy-duty commercial trucks, buses, motor coaches, safety vehicles, and RVs. These mirrors meet OEM requirements for durability, quality, and finish. The company's goal of producing mirrors that provide clear views of the blind spots and passing lanes and minimize vibration is evident in every Velvac vision solution—from the best-in-class 2020 mirror system to the OE mirror replacement parts.
Camera & vision systems
The Velvac cameras and vision systems are the ideal vision solutions you need to improve the driving safety of any truck, bus, RV, or safety vehicle. Trucks have several blind spots around that affect the driver's view of their surroundings. By providing cameras and mirror systems that enhance blind spot detection, Velvac's vision solutions enable drivers to respond to emergency situations safely and immediately, without hitting pedestrians or colliding with objects and other vehicles. The brand's massive product selection, which aims to boost driving safety, comfort, and efficiency, includes topnotch vision solutions for every situation.
Air, electrical, and fuel system components
Throughout its history, Velvac is also actively involved in other vehicle solution arenas, including the production of top-quality parts and accessories for the vehicle and truck air brakes, electrical systems, and fuel systems. It also produces first-rate hose support, fitting and hardware, and a wide selection of accessories for truck protection and for the driver and vehicle occupants' comfort and convenience.
Like Velvac, FinditParts also believes that safety begins with what you do not see. Here, you will find the latest and the most sophisticated Velvac 2020 system and west coast mirrors. We also cover the popular Velvac Road-iQ camera and vision systems and a wide selection of engine parts and air conditioning and heating components. Whatever Velvac products you need, just check out our comprehensive catalog, and you can have them at pocket-friendly prices. Place your order today, and let us help you outfit your ride with the best safety features, replacement parts, and accessories without costing a fortune.