Peterson Manufacturing: The Market Leader in Vehicle Safety Lighting Products and Accessories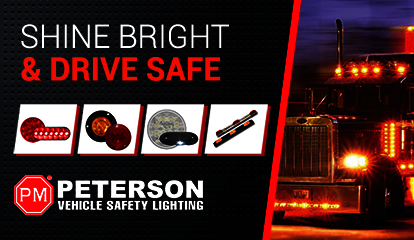 Lights play a crucial role in vehicle safety and communication. The headlights, for one, are used to see the road clearly when driving. The tail lamps, on the other hand, are designed to increase your visibility when driving at night and in poorly lit areas.
Because of the significant functions these lights serve, drivers must ensure that they are in good working order before they hit the road. If replacements are already necessary, then be sure to get them only from a trusted name in vehicle safety lighting solutions and accessories—Peterson Manufacturing.
About Peterson Manufacturing
Founded in 1945, Peterson Manufacturing is a family-owned business that has grown immensely from a tiny lighting manufacturer to a multi-industry corporation. Its goal is to be the best while making the roads safer for everyone. So the people behind this brand work tirelessly to improve not just their products and technology but also their processes, training, and customer service.
Peterson Manufacturing offers a comprehensive range of lighting solutions and other accessories. The company takes pride in using premium-quality materials, the latest technologies, and automated assembly equipment to produce only the best products with maximum value. For fleet owners and operators, professional mechanics, and drivers, here are Peterson Manufacturing's most popular products:
LED Lighting Solutions
More and more commercial vehicles and heavy-duty trucks and trailers use LED lights nowadays. That is because this type of light offers better solutions to lighting challenges experienced by these bigger vehicles.
Unlike the lights on smaller vehicles, the lights on trucks, trailers, and other bigger rigs are usually mounted on their exterior, so the vehicle's bodywork does not protect these lights and their wiring. Larger trucks are also high-vibration environments and are on the road longer than cars, so the lights on these more oversized vehicles experience large shocks and are used for a more extended period as long as they are operating.
LED lights solve the challenges mentioned above because not only they are insensitive to shock and vibration, but also they have an extremely long life, which means they need not be replaced as frequently as incandescent lights. Here are other advantages of using LED lights on your trucks:
They provide increased visibility.

LEDs are energy efficient—about 85% more efficient than their incandescent counterparts.

They provide brighter illumination than other types of light bulbs.

LED lights use less electricity and put less strain on your truck's battery.
So, what are the LED lighting options available from Peterson Manufacturing? Here they are:
LED Stop-Turn Tail Lights

LED Combination Rear Lights

LED Turn Signals

LED Auxiliary Turn Signals

LED Auxiliary Marker + Accessory Lights

LED Identification Bar Lights

LED Back-Up Lights

LED System Monitoring Lights

LED Headlights

LED Work Lights
All Peterson Manufacturing LED lights are designed to create a brighter and safer work environment. But one product that sure stands out from this comprehensive lineup is the LumenX® LED Light. This features advanced optics that disperse light so efficiently, the lens illuminates fully, with no dead zones or hot spots, no matter the viewing angle. It also offers ease of installation and reduced stress on the wire, thanks to the 30-degree angle of its space-saving plug housing.
Incandescent Lights
Since LED lights are relatively expensive, others prefer incandescent lights. If you are among them, well, no worries! Peterson Manufacturing has got you covered on this.
Need a new incandescent stop/turn/tail light for your truck? This sealed, 3x5" red stop/turn/tail light may be just what you're looking for. It is made to fit competitive rectangular lights, and it's ideal for use on commercial market vehicles.
Now, if what you need are incandescent lights for your tractor, snow plow, and other agricultural applications, you don't have to look further because there are Peterson Lighting products for these too. One such product is the tractor/utility light. This incandescent light comes with a replaceable 55W H3 halogen bulb and functions as a tractor or general work light.
There are actually so many more different products included in this comprehensive lineup. And these are the following:
Incandescent Combination Rear Lights

Incandescent Turn Signals

Incandescent Side Marker + Cab Lights

Incandescent Flashing + Revolving Beacons

Incandescent Identification Bar Lights

Incandescent Back-Up Lights

Incandescent Dome + Interior Lights
Other Lighting Products and Accessories
From halogen fog driving and off-road lights to Xenon strobing beacons, Peterson Lighting has got them all and more. As mentioned earlier, its goal is to make the roads safer. So, it offers a much-diversified catalog to meet the varying needs of fleet owners and drivers. Whether you need a complete lighting kit, a replacement lens or bulb, or basic hardware like grommets, this brand has got one for your maintenance and repair needs.
But aside from lighting products, Peterson Manufacturing also offers other safety components and accessories such as:
Mirrors

- The Peterson Lighting wing mirrors are used primarily to help the driver see areas at the sides of the truck, which are often considered blind spots. Rearview mirrors, on the other hand, allow the drivers to see the road and traffic behind their vehicles without having to turn their heads. Both types of mirrors are available as convex or

universal mirrors

.

Reflectors

- These are used to increase the vehicle's visibility to other motorists or road users. If your truck is already equipped with a

reflector

, you may also consider adding

reflective tape

.

Warning Triangles

- These usually come in a kit. It pays to have a set of these when you hit the road because you never know when a breakdown will occur.

Warning triangles

are often used to alert other drivers and road users that they are approaching an unexpected stationary vehicle.
The list could actually go on and on since Peterson Manufacturing continues to improve its product offerings and services to cater to the changing needs of customers. For a more convenient shopping experience, you can always turn to FinditParts. We are your one-stop-shop for all your heavy duty truck and trailer parts needs.