Grote: Giving Your Fleet A Competitive Advantage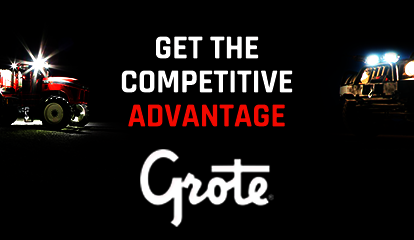 No matter what services or products you offer, if you rely heavily on your fleet to make deliveries or provide these services, then all the more you need to perform regular fleet maintenance. Preventive maintenance is critical to ensuring the safety and compliance of your vehicles. Plus, it helps reduce downtime, control costs, boost productivity, and maximize customer approval.
A critical aspect of performing effective maintenance is knowing when replacement is better than repair. There is a temptation to opt for repair and buy cheaper parts from unreliable sources to save money. However, these measures often prove a false economy in the long run, especially when repaired parts are often used under harsh operating conditions.
If you want to save on maintenance costs while giving your fleet a competitive advantage, then get only premium-quality replacement parts from Grote Industries.
A worldwide leader in manufacturing and supplying lighting products and safety systems for heavy duty trucks and other applications, Grote has been around for nearly 120 years. It is a family-owned company that has built a solid reputation for manufacturing some of the most popular lighting components for the heavy duty trucking industry, including the first LED marker light in 1989 and the first LED forward lighting in 2004.
But Grote is not just a company—it is a brand of TRUST. And behind this brand is a team of experts who share the same vision—to meet its customers' needs and give their fleet a competitive advantage through its comprehensive range of smart visibility systems and other safety products.
Heavy Duty Truck Lights
Grote has been lighting the way for the heavy duty trucking industry since 1901. Its full line of heavy duty truck lights includes white lights, signal lights, and warning and hazard lights.
White lights
Grote offers a wide range of white lights, and here are some of the most popular options available for your heavy duty trucks:
Driving in dark and harsh weather conditions can be risky, and without the proper forward lighting, the risk is even more amplified. Fleet owners and operators must consider this, and be sure to equip their vehicles with reliable forward lighting, such as Grote's LED Sealed Beam Headlights.

The LED sealed beam headlights are designed to improve the truckers' driving safety by decreasing eye fatigue and providing better detail when driving in dark areas and bad weather conditions. Available in 7" round and 5" x 7" and 4" x 6" rectangular options, these durable LED lights are the perfect replacements to your existing lights. These are built to offer years of reliable use as they are made with hard-coated, UV-protected, polycarbonate lenses that effectively resist high impact, cracking, and yellowing.
Grote takes pride in its rugged, reliable, and powerful work lights because they feature its signature "White Light" color temperature. The Trilliant® Mini LED WhiteLight™ Work Light, for one, provides a high lumen output with low power draw. It is built to offer long-lasting service, and it makes a natural LED upgrade for your existing incandescent or halogen sealed beams.

Grote's task lightings include the LED fairing lights and the LED radius light. LED fairing lights are used when surface mounting the lamp and if you need increased trailer perimeter lighting. Meanwhile, the LED radius light is often attached to a vertical surface above an entrance or exit to distribute light over a large area, preventing truckers from getting injured during the evening or early morning deliveries.

Signal lights
The truck signal lights are used to communicate with the other cars on the road. So when they malfunction, they can put your driving safety at risk. For your replacement signal lights needs, Grote has also got you covered, and here are some of the lighting products included in this line:
Stop Tail Turn (STT) light
As its name suggests, this type of lighting combines all three functions—stop, tail, and turn—in one standard light. One popular option from this line is the SuperNova® 4" 10-Diode Pattern LED Stop/Tail/Turn Light. It is designed with a fully protected circuit board to prevent damage due to harsh weather and travel conditions. Plus, it operates using less voltage than the ordinary incandescent light, providing longer life and a more crisp, clear-cut beam pattern.

This type of light functions mainly by giving other truckers a clear picture of who they share the road with. The M1 Series Clearance Marker Lights are among the most notable products from this line because they consist of a sleek, aerodynamic styling combined with chrome-plated, corrosion-resistant bezels.

The license plate light is necessary for identification purposes, while fully functional backup lights are highly critical to warn other vehicles and people around the truck that it is about to move backward. When yours are already damaged, premium-quality replacement backup lights are available from Grote, such as the SuperNova 4" Dual-System LED Backup Lights. These are designed with an encapsulate plotting, which provides total circuit board protection. They are also made with hard-coated lenses, an advanced pin system, and the same UBS pigtail as standard male incandescent.

Warning and hazard lights
Designed to keep any driver safe, the Grote warning and hazard lights are used in various applications such as construction vehicles. They are made to warn other drivers of danger to prevent them from driving into the work zone. Beacons, strobe lights, light bars, directional warning lights, and flashers are a few examples of these products.
Personal Protective Equipment for COVID-19
Grote is one with the world in keeping the truckers safe during the COVID-19 pandemic. Its wide range of critical safety products now includes various personal protective equipment for COVID-19. From full face shield assemblies to replacement shields for your existing face shields, this brand has got you covered. Here are the features of the Grote face shield:
A full face shield assembly with a lightweight, reusable headband and a shield

Built to offer protection from spills, spray, flying debris, and other contaminants

With an anti-fog coating for a hassle-free use

Has an extra space between the shield and the forehead for greater security and comfort
Give your fleet a competitive advantage by equipping your heavy duty trucks with high-quality lights and other safety products from Grote. Keep in mind that the better quality replacement products you use on your vehicles, the lesser the possibilities of unexpected mishaps and costly downtime. You can bet your customer approval rating to go up with this as customers are happy when you are there when you say you are.
Here at FinditParts, we want to provide you with a hassle-free online shopping experience by offering you these Grote lights and other products 24/7. Feel free to check our comprehensive list of Grote heavy duty truck parts and personal protective equipment for COVID-19 today.