Wix Filters: A Review for Heavy Duty Trucks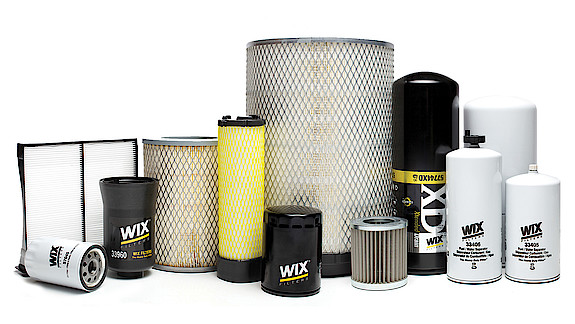 Just like you, your vehicle's engine relies on clean air and clean fluids to be happy and healthy. To ensure the best operating performance for your truck and to extend its life for as long as possible, the right filters will make a big difference. They will filter out impurities that can damage your vehicle's engine. These impurities can deprive it of performance in the short term and durability down the road.
To ensure a clean-running engine, filters must be changed according to the vehicle manufacturer's schedule. Although that will require purchase of a new filter and the time on your part or a mechanic to change it, it's an investment worth making.
Simply put, filters are not a wise place to cut back on your budget. These products are relatively inexpensive, especially if you buy from a large online seller like FinditParts that can pass its bulk savings on to you.
Dozens of manufacturers make filters for cars, light-duty vehicles, heavy-duty trucks and other vehicles. Although we carry many brands here at FinditParts, we are proud to offer you one of the world's best selections of Wix filters. Founded in North Carolina in 1939, this company was a pioneer in oil filters. With its invention of the spin-on oil filter, it helped make frequent oil and filter changes easier for drivers everywhere. Over the years, the lives of millions of vehicles undoubtedly have been extended thanks to Wix.
Owned by a company called Mann & Hummel, Wix has become a major producer of lube filters and other types of filters. Growing from humble roots, the company now produces more than 210 million filters every year. It runs 11 facilities in the eight countries it operates in. Some 1,500 of its more than 3,500 employees work in Gastonia, N.C. In addition to automotive and truck filters, this company produces filters for specialty, agricultural and industrial markets. Wix filters are available to protect all types of engines, including gasoline and diesel.
When you purchase a Wix filter, you join a large group of consumers who have put their trust for maintenance of their vehicles in the hands of a firm with more than 80 years of experience. Read on for a brief review and overview of the extensive lineup of Wix filters for heavy-duty trucks.
All kinds of filters are available to protect engines. The most common are oil filters, which should be changed with every oil change. These help prevent small bits of metal and other impurities from getting into your engine and wearing it down prematurely.
Oil filters are divided into two broad categories. The above-mentioned spin-on oil filters come with their own metal housing. Replacing an old spin-on filter is simply a matter of using an oil filter wrench to loosen and remove it. Then the replacement spin-on filter is screwed on. It should be tightened enough to ensure no oil leaks from it but not too tight, so it will be easy to remove when the time arrives for the next oil change.
The other major type of Wix oil filter is a cartridge oil filter. If your vehicle uses these environmentally friendly types of filter, changing the filter is simply a matter of removing the old cartridge and replacing it with a clean new one. The housing is permanent and does not have to be changed, unless it has been damaged.
Air filters generally don't have to be changed as often as oil filters. But they play just as an important part in providing reliable performance and durability for your rig. In fact, a really clogged air filter can adversely affect fuel economy and performance.
Manufacturers require air filters to be changed more often if you operate your vehicle under dusty, dirty conditions. For instance, vehicles used for mining, farming and other industries where dust is likely to be a commonplace of everyday use will require more frequent air filter changes.
Your fuel system provides the lifeblood that powers your vehicle. Just as your body filters out dangerous attackers with its immune system, fuel filters ensure your rig will get the proper fuel without impurities. This is particularly important for diesel engines, where even a bit of water that condenses in the fuel tank can cause major damage to the engine. Wix manufactures a big variety of fuel filters to protect gasoline and diesel engines for heavy-duty trucks as well as heavy machinery for agricultural, forestry, construction and other industrial uses.
With its decades of experience, Wix has deep experience in producing dependable filters. But the company hasn't stopped there. Nearly a century after its founding in North Carolina, it's still innovating. One example is its Senzit predictive maintenance platform. Billed as the first system of its kind in the industry, it lets you monitor your fleet's maintenance requirements and location via a mobile app and Web portal.
No matter what you drive, regularly changing your engine filters will help ensure years of trouble-free operation and efficient performance. Wix is just one of many quality manufacturers of filters ready to get the most out of your rig. If you're wondering which filter is right for your machine, call us toll-free or email us. Our expert staff will help you find the right stuff.