United Pacific: Providing America's Bloodline with Reliable, Hardworking, and High-quality Products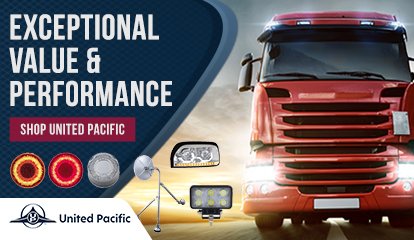 Guided by the belief that 'the trucking industry is the bloodline of America that never sleeps,' the people behind United Pacific has always been true to the brand's mission—"to keep that bloodline running every day and help truck drivers as best as possible by manufacturing reliable, hardworking, quality products." United Pacific also prioritizes outstanding customer service by ensuring its innovative and passionate employees are always motivated to work collectively to establish and maintain good relationships with its customers.
Since United Pacific's inception in 1984 in El Segundo, California, it has always been a dream for its founder, Major Lin, to manufacture and sell top-quality parts for classic cars and big rigs. What started as a small shop with a big dream has evolved in the past 30 years and is now one of the biggest and most reliable auto and truck parts suppliers, with over 20,000 products.
In 2013, the brand moved its headquarters into a 135,000 square-foot facility in Long Beach, CA. It is still family-owned and managed by Major's two sons—Jack and Paul—and it continues to meet and fulfill customers' demands and achieve excellence in the trucking industry. Among United Pacific's highest quality parts that are developed to fit just like the original are:
Energy-efficient Lights
United Pacific carries everything you need to light up your rig—from cutting-edge headlight and tail lights to rugged auxiliary and work lights. Whether you drive a Freightliner, Peterbilt, International, Volvo, or Kenworth, this brand integrates energy-efficient lighting technology in all its products to ensure driving safety, greater visibility, and better product quality. United Pacific offers a wide variety of high-quality LED lighting options that outperform incandescent bulbs in brightness, performance, and efficiency. United Pacific lights are made durable enough and ready to improve your visibility, make your rig more visible on the road, and help you get your job done, no matter the conditions.
The work lights and floodlights from United Pacific are rugged and all-set to work as hard as you and your truck do. Most United Pacific work lights are available in all shapes and sizes and come in low-profile designs to fit various mounting options. These lights are equipped with heavy-duty die-cast aluminum housing and protected from debris and moisture by a high-grade polycarbonate lens. United Pacific arms its lights with solid-state internal wiring that stands up to shock and vibration to efficiently help you pull off your work while on the road or in the field.
United Pacific considers the feedback of truckers in designing its wide range of headlights. Most of its lights showcase either an aggressive or a vintage styling, so customers can always get the one that matches their rigs' specifications and satisfies their personal preferences. Newer headlights from this brand are outfitted with modern reflective designs, combined with the latest LED technology for a more focused light distribution. These lights also offer the convenience of plug-and-play design, which allows the mechanic or DIYer to directly connect the United Pacific headlights to existing headlight wiring harnesses.
Precision-made Collision Parts
Collisions are inevitable, but you can control how long your truck's downtime will be. United Pacific—with its wide array of high-grade collision parts—is committed to helping you get back on the road as soon as possible. Its hoods, bumpers, mirrors, headlights, door handles, grilles, and other collision components are made exclusively to fit your semi-truck the way the original parts do.
A part of the United Pacific's goal of providing its customers with highest-quality and durable collision parts, it uses the right amount of nickel, copper, and chrome in coming up with the perfect thickness and chrome plating for its grilles. The brand goes beyond the standard by constructing its grilles using plastic injected frames, which integrate bug screens that can easily be installed using the original's hidden clips. Such screens are concealed to maintain a clean and flawless facade. United Pacific grilles are designed with built-in mounting holes and reinforcement plates. They are packed with all necessary mounting inserts, bolts, and other hardware to make installation as fast and seamless as possible.
As your rig's first line of defense in times of collision, United Pacific makes sure to provide its customers with all the parts, accessories, kits, and hardware you need to bring your factory bumper back to its proper working condition. Truckers or fleet operators can opt to purchase complete assemblies or individual parts, depending on their needs. The majority of United Pacific bumpers are coated with a high-quality chrome finish for corrosion resistance and have pre-drilled holes for easy installation.
Whether you need to replace or repair your exterior mirrors after a collision, United Pacific is here to provide you with an assortment of unique choices. This brand's mirrors come with heating features and LED lights and are available in electrical or manual operation. They are offered in many styles, sizes, features, and finishes.
Other United Pacific Products
As it aspires to be a constant driving force in the trucking community, United Pacific continuously expands its product lines. The brand also takes pride in offering high-quality wheels and accessories, exceptionally durable trailer components, top-of-the-line interior parts and accessories, and many other products for semi-trucks and trailers, commercial vehicles, passenger cars, RVs and buses, and heavy equipment. Its product lines also include a wide range of exterior parts and accessories, polishing and cleaning products and kits, and motorcycle components.Good news! FinditParts offers a large selection of United Pacific products you need at prices that will not hurt your budget. Whether you need United Pacific cargo control parts, sleeper accessories, fuel tanks and accessories, exhaust system components, and many other products, we've got them all for you! Choose from our excellent product choices or find the exact part you need in just a few seconds through our quick lookup feature. Our site is open to serve you 24/7, and our U.S. team of experienced customer support representatives are just one call away. Order your needed United Pacific parts from us today and see the United Pacific difference in no time!