Truck-Lite: Lighting Products That Outlast Them All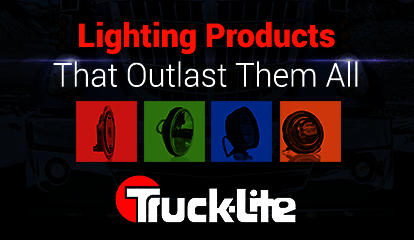 If you have ever driven a truck in North America, chances are one or more of its lights are from Truck-Lite. For more than half a century, Truck-Lite has been the leading name in lighting solutions for the North American heavy duty commercial vehicle market. With one of the largest catalogs for sealed lamps, Truck-Lite specializes in aftermarket LED lighting products and accessories for tractors, trailers, buses, and other commercial vehicles. These products are notable for their long-lasting, all-weather performance and user-friendly design to ease installation and servicing.
Research & Development
Truck-Lite attributes its success over the decades to its deep commitment to research and development. The company employs over 135 engineers and has a portfolio of more than 250 patents worldwide. With lighting becoming more integrated into the whole vehicle electronic system, Truck-Lite's capabilities in software programming and the ability to design and print circuit boards in-house are a huge advantage.
This combination of in-house experts and state-of-the-art technology has resulted in developing and introducing new products to the market. These products, which either improve on existing technology or introduce new ones, are built to work hard to ensure drivers stay safe on the road.
In addition, Truck-Lite also has the advantage of fully-equipped environmental testing laboratories in North America and Europe. These laboratories put Truck-Lite's entire catalog of products under rigorous testing, including environments that simulate extreme temperatures, exposure to harsh chemicals, and other real-world elements to ensure these products perform at their best even at such demanding conditions.
The Truck-Lite Advantage
Truck-Lite lamps come in many types, but they are all built for reliable all-weather performance. Some of the key features these parts have include:
Fully sealed construction.

Truck-Lite lights are designed with a tight lens-to-housing seal, preventing contaminants such as dirt, dust, mud, and moisture from entering the lamp body and corroding the LED circuit or bulb inside. Selected models may also be reinforced with gaskets for additional sealing protection.

High-quality materials.

Truck-Lite parts are made of materials that offer the best structural strength and all-weather durability at an accessible cost. The lamp housing is made of rust-proof aluminum, stainless steel, or molded polycarbonate and coated with a protective finish. The lenses are also made of shatterproof acrylic or polycarbonate that will not fade or crack under constant exposure to the sun. These lamps are also fitted with stainless steel brackets or hardware for a long service life.

Ease of installation.

Truck-Lite lamps utilize industry-standard plugs, so there's no need for special connectors and installation procedures. Some models may also be hardwired or have blunt-cut wires, which make stripping them easier in the case of retrofits.
Key Products
LED Stop Lighting
Truck-Lite is best known in the industry for its 6-diode combination stop/turn/tail lights. With its iconic Pentastar light pattern, the Truck-Lite LED stop/turn/tail light has a faster illumination time, giving other drivers on the road more time to react. In-house studies reveal that these lights provide an average distance of 3' reaction time advantage for every 10 mph. The LED circuits are also coated in a special encapsulant, which, combined with their filament-free design, makes them highly resistant to damage from shock and vibration.
Signal Lighting
Popular with both owner/operator and show trucks, Truck-Lite LED and incandescent signal lights have a classic design paired with the latest in lighting technology. The products' LED versions feature a full pattern beam design for brighter, more noticeable light, while incandescent models have a heavy duty bulb on a shock mount for increased vibration protection and longer service life. These lights also fully comply with reflex, tail, clearance, front, park, turn signal lights, or a combination of any of these, depending on the model. Selected incandescent signal lights are also designed so that they can be easily upgraded to more energy-efficient LEDs.
Marker/Clearance Lighting
Available in various shapes and sizes, the Truck-Lite marker/clearance light is designed for durability and reliable performance. Higher-end marker/clearance lights feature a starburst light design for optimum illumination and are sonically sealed to prevent dirt, moisture, and corrosion from damaging internal components. The lens and housing are made of premium-grade molded polycarbonate, which is virtually rustproof and has exceptional abrasion and impact resistance. These lights are also compliant with PC and FMVSS standards.
Forward Lighting
Truck-Lite offers a wide range of headlights for light, medium, and heavy-duty trucks as well as commercial and off-road vehicles. These headlights feature a brighter, crisper, and whiter light output that's almost similar to that of natural daylight. Metalized reflector optics also create a beam that's smooth and clean across the road surface.
Because of their critical importance to road safety, Truck-Lite's headlights are specially built to be tough. Their housing is made of high-grade aluminum, stainless steel, or polycarbonate polymer that offers superior protection and resistance against impact, roadside debris, and corrosion. LED headlights also feature a solid-state, bulb-free design that's impervious to shock and vibration, with electronics sealed in epoxy to protect against corrosion and moisture. All headlight circuits are also protected against voltage spikes of up to 600V.
Work Lights
Whether it's stationary or on the go, Truck-Lite also offers professional work lights for light to heavy duty trucks. Customers can choose from energy-efficient LEDs to tried-and-tested par 36 trapezoid lamps that give off a clean, evenly distributed beam of light that's suitable for most tasks. These lights are fitted with a rustproof die-cast aluminum or synthetic rubber housing that's mounted on heavy duty brackets and hardware for heavy all-weather use. Truck-Lite work lights are also available in blunt-cut and hardwired connectors for fast, hassle-free installation to make retrofits or upgrades easier.
Interior Lighting
Truck-Lite's utility and dome lights provide a robust interior lighting solution that's easy to install almost anywhere inside the vehicle. Their small profile makes these lights ideal for general interior, toolbox, storage, cabinet, and step lighting functions. They also make use of industry-standard mounting screws and hardware, although selected models are also fitted with industrial-grade adhesive backing for hassle-free installation on any hard surface. Also, like other types of Truck-Lite lighting, the utility and dome lights are completely sealed for long-lasting moisture and corrosion protection.
No matter where it's mounted or what it's used for in your truck, you can be sure Truck-Lite has the right lighting for the job. Here at FinditParts, you can choose from a wide selection of Truck-Lite lighting products or accessories for light to heavy duty trucks and commercial vehicles. Check out our catalog today and take advantage of our low shipping rates and special brand offers.