Save-a-Load Cargo Bar Review

Whether you drive a pickup truck or a big rig, you understand that getting there is just half the fun. Getting there with your cargo intact is just as important as getting your truck from point A to point B safely, quickly and efficiently.
Whether you are carrying your own stuff or hauling cargo commercially, you want what's in back of your truck to arrive just as safely and securely as the driver in front. And if you drive a pickup or any open-bed truck, you want to make sure that stuff remains in the truck rather than spilling out on the road and possibly the drivers behind you.
As the world's leading online supplier of truck parts, FinditParts understands your concerns. When you're transporting your own possessions, you don't want to damage or break them in transit. If you've been hired to carry cargo for others, the last thing you need is the liability of arriving with damaged goods. In either case, you don't want the additional liability nightmare of having cargo spill on to the roadway and causing a traffic accident.
One solution to the safe cargo-hauling dilemma is the Save-a-Load Cargo Bar. For an in-depth overview and review of this product, read on.
Already know what you're looking for? Configure your cargo bar now!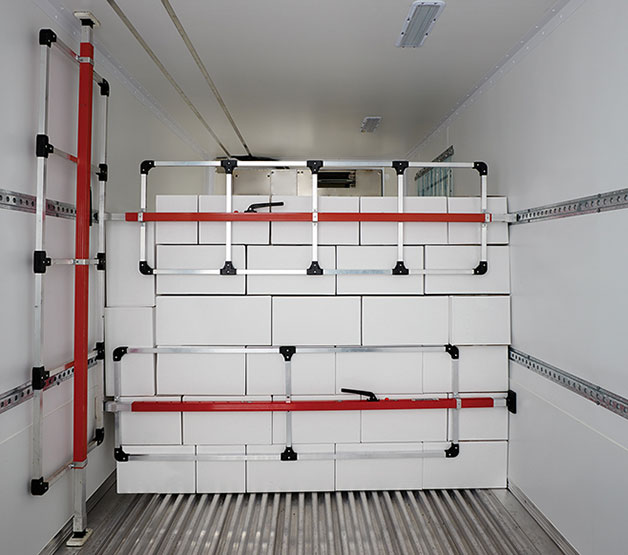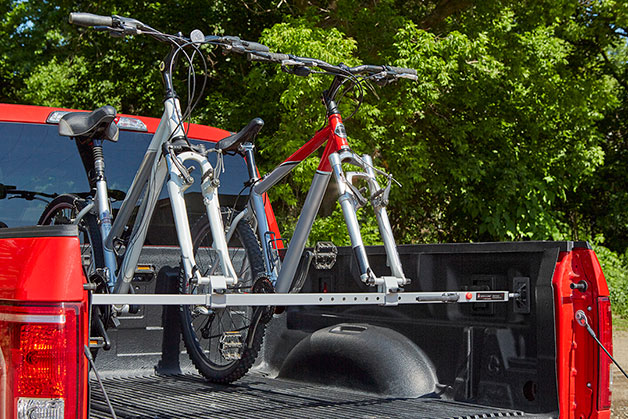 About the Company
First, a little history. Save-A-Load Hydraulic Cargo Bars have been on the market since 1994. Originally designed by an owner/operator tired of having to replace broken, faulty and even dangerous ratchet style cargo bars. In 2016, the company Save-A-Load in Charlotte, NC was acquired by Fleet Engineers, a manufacturer of comprehensive product solutions for aerodynamics, door systems, spray control and truck and trailer parts and accessories. The full line of Save-A-Load Cargo Bars, Hoops, Accessories and Replacement Parts are now manufactured in Muskegon, Michigan. Fleet Engineers is now a Division of Tramec Sloan.
About the Product
Now, a little about the Save-A-Load cargo bar itself. It is designed to provide stability, safety and security for your cargo, whether you are driving a pickup truck, a cargo van, moving van or a semi-truck with trailer.
The company states that this is the most versatile cargo-stabilizing bar on the market. Weighing less than 10 pounds, it is lightweight and easy to handle. A unique interior hydraulic cylinder pump keeps the bar secure against the walls of a trailer, even as trailer walls experience the normal flex during road transport. The hydraulics have a factory set pressure-limiting valve so the operator won't damage the trailer walls no matter how many times the handle is pumped. The safe and easy operation, includes a convenient one-hand release mechanism and various end configurations to meet your cargo needs.
How does it work?
It's really very simple. First, put the bar in place. To secure your load, you may install it horizontally, vertically or at an angle, with or without a hoop accessory, depending on what your rig and your cargo require. The fixed or articulating feet options with nonslip rubber pads mean it will hold securely to any surface, including reefer trailer walls or bedliners in pickup trucks. E-Track and F-Track end configurations are available.
After you have the bar set in the position where you want it, adjust the extension tube to fit the space. Length adjustments vary depending on application. The SL-30 Series for heavy duty commercial use has a length adjustment of 84" - 114"; SL-20 Medium Duty Series can be adjusted between 69" - 96" and the SL-10 Light Duty Series has range of 47" - 75", giving you lots of leeway to suit the dimensions you are working with.
Finally, pump the handle to adjust the bar to get it exactly where you want it to be with a tight fit. That's it.
Removing the bar is even easier. To take it down when you are ready to unload, simply push the red release button: all it takes is one hand. Then remove the bar easily and safely. Nothing could be simpler. No intricate switches, levers or gears that could cause injury or make it impossible to release with gloves on. The light weight of the bar and the pressure-release control valve can help avoid accidents at the end of a long journey.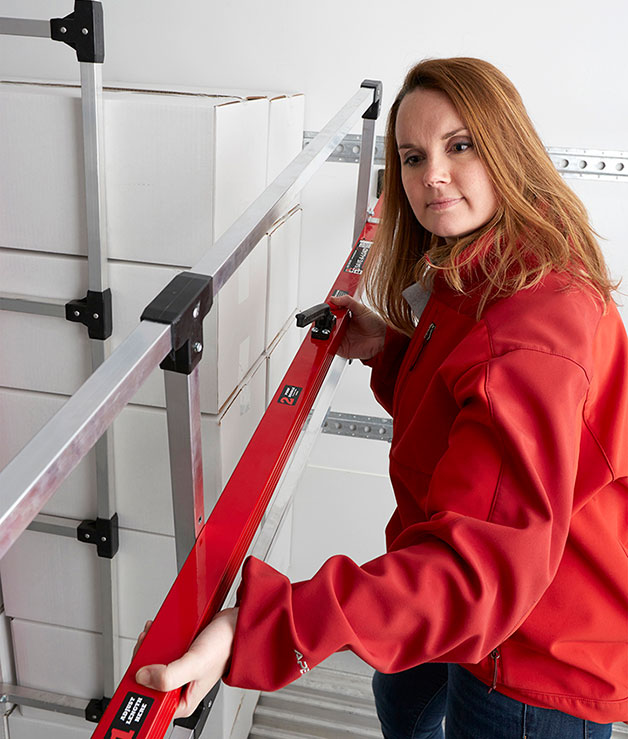 The company states their cargo bars have been used to secure all types of loads, including boxes, foods and liquids such as soft drinks. Because the cargo bar is fully adjustable, it can be used to gently contain extremely fragile loads and securely hold awkward items. Customers who have used this product have included the U.S. military, NASA, emergency services and hazmat, according to the manufacturer.
For commercial haulers, there is an additional advantage to using this system. According to American Trucker magazine, more than 80% of compliance violations handed out by the Federal Motor Carrier Administration involve failure to properly secure loads. Using products like Save-A-Load could help avoid problems with compliance violations, saving time and money.
What People are Saying
A review on 4x4 Review says the bar "solves sliding cargo problems with a few clicks and a few pumps of the handle." It goes on to mention its "quality materials" that are "lightweight and durable," such as "aircraft-quality aluminum." For several months, the magazine tested the bar on items including large tires, heavy boxes and a vehicle transmission. It passed all the tests, carrying the loads safely and securely.
If you are interested in finding more reviews of Save-A-Load, they are at your fingertips with a quick Internet search. Do a little research on your own to see for yourself and decide whether this product is right for you.
The Takeaway
This product is ideal for anyone hauling cargo – pickup trucks, SUV owners and other private vehicle users as well as those who haul freight commercially. It's especially useful for heavy, awkward or fragile loads. It's designed to be corrosion-free and bio-safe.
On the other hand, it could be overkill for securing light or small loads. If you're on your way back from the local Home Depot with some lumber, for instance, some rope or good straps would probably be all you need to secure your load.
In addition to cargo bars, the Fleet Engineers Division of Tramec Sloan also makes accessories designed to work with the bars. The most popular being structrually engineered aluminum hoops to increase the footprint of the cargo bar. They also offer locks to prevent theft, storage racks to keep the bars safe when not in use and even a bicycle carrier accessory for the pickup cargo bar.
If you have questions about these cargo bars in particular or cargo protection in general, we are just a toll-free phone call away. Our friendly staff can give you authoritative answers to find the most sensible solution for your application.
We carry more than 9 million parts for heavy-duty trucks, autos and off-road industrial vehicles, so we are bound to have the right product in store for you. In addition, we can get you what you want at a reasonable price with fast shipping. Most of the products we carry are available with two-day shipping, and even free shipping on several items in our inventory.
Want more info?
Check out our full informational page here.