Newstar: Genuine Replacement Parts for the Aftermarket Truck Parts Industry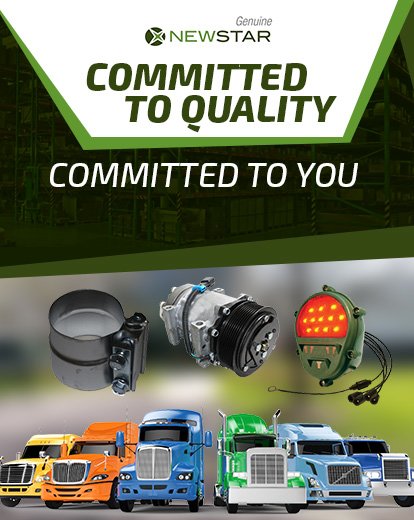 Newstar is a trusted supplier of genuine replacement parts for medium- and heavy-duty applications. It is a trademark of S&S Truck Parts, LLC., a leading global distributor of new aftermarket truck parts for various truck makers, including Peterbilt, Mack, Kenworth, Volvo, International, and Freightliner. S&S, which was founded in 1952 by lifelong friends Bernie Sacks and Stan Saletko, established the aftermarket for the North American heavy duty truck parts industry.
Over the years, S&S has expanded its product offerings to meet the demands of the evolving aftermarket heavy duty truck parts industry. When Rick Hoffman joined the company, he introduced the Newstar brand to provide the aftermarket with high-quality replacement parts at affordable prices. Today, more customers rely on this brand, including OEMs, independent warehouse distributors, and truck dealerships.
Here are some of the parts included in Newstar's product catalogs:
Air and Brake
Newstar offers a wide range of air and brake components. For Peterbilt truck owners, Newstar's highly reliable spring brakes will keep your vehicles on the road longer. And when any of their components get damaged, replacement parts are widely available, such as the slack adjusters. Replacement valves, wheel speed sensors, switches, air dryer cartridges, and hub caps are also included in this lineup.
Cab and Body
Dirt, dust, rust, and other damaging elements can get the best out of your truck's cab and body over time. No worries, though, because when it comes to cab and body repair and maintenance, Newstar has got all you need. From hood components, grilles, bumpers, and fenders to door components, window parts, mirrors, and hub covers, Newstar ensures you get the right replacement cab and body parts you need right when you need them.
Suspension
The suspension system helps maximize your truck's overall performance while it cruises down the road. It is what makes your ride safe and comfortable since it helps absorb and dampen shock. Because of its crucial function, its components must be in good working condition at all times. Premium-quality replacement suspension parts from Newstar are designed to offer years of reliable service. So when your truck needs new air leaf housings, bolts, drag link assemblies, spring pins and bushings, tie rod ends, and shock absorbers, this brand won't let you down.
Driveline & Drivetrain
Driveline and drivetrain components all work toward the same goal, and that is to make your truck move. When any of these parts need replacement, Newstar has got your back. Its comprehensive range of driveline and drivetrain components includes center bearings, strap kits, end yokes, universal joints, clutch shafts, fifth wheel components, and fan clutches.
Engine
The engines are the power behind heavy duty trucks and other large commercial vehicles. They are made up of many moving parts, all crucial in their overall performance. When you notice engine stalling, an illuminating check engine light, decrease in gas mileage, loss of power, and annoying noises or odd odors, it's most likely that the engine has gone bad. Replace damaged or worn engine parts before they get worse. Newstar has a large selection of engine components, all offered with OE quality, precision fit, and durability. This includes radiators, fan shroud assemblies, radiator caps, turbo hoses, EGR coolers, turbo clamps, engine mounts, alternators, seal kits, exhaust bushings, and surge tanks.
HVAC
The purpose of the HVAC unit in your truck is more than just cooling or warming the cabin. Instead, it ensures only clean air circulates inside the vehicle and provides comfort for the driver and other vehicle occupants. But to do these crucial tasks, all its components must be in good working condition at all times. Good thing, premium Newstar replacement HVAC parts are widely available. From blower motors and receiver dryers to expansion valves and compressors, this brand helps restore the like-new condition of your HVAC unit in no time.
POWER STEERING
Newstar has a wide selection of power steering pumps and kits for your repair and maintenance needs. These products are all made to meet the highest standards to ensure reliable performance for years to come. How to know if it's time to replace your truck's power steering pump? Just watch out for these signs: leaks, decreased assistance, and annoying noises while steering.
PTO & HYDRAULIC
PTOs or Power Take-Offs help maximize the use of any equipment. From raising a dump truck's trailer or body, operating an auger on the end of a truck loader crane, or lifting a container onto a skeletal trailer using a side loader, these products are the ones that allow these equipment to perform these secondary functions. If you're considering adding PTOs to your fleet, Newstar is the name to trust. This brand has the broadest range of PTOs and hydraulic components for various truck makes and models. All Newstar replacement PTOs and hydraulic parts offer world-class quality, ultimate performance, and precision fit.
EXHAUST & ELECTRICAL
The exhaust and electrical systems are crucial in the overall performance of your vehicle. The exhaust system, for one, helps direct exhaust fumes away from the vehicle occupants, control noise, minimize fuel consumption, and improve engine performance. On the other hand, the electrical system, which is composed of the starter, battery, and alternator, is responsible for starting the engine, making sure it keeps running, and powering all electrical components like the HVAC, radio, lights, and windshield wipers. If any of these two systems start performing poorly because of damaged components, be sure to replace these components before the problem gets worse. Newstar carries a vast selection of replacement exhaust and electrical parts with OE quality and precision fit for a quick, trouble-free installation.
Newstar's commitment to quality is what makes it one of the most sought-after brands of replacement truck parts in the aftermarket truck parts industry. And FinditParts is one with Newstar in bringing only the highest quality components to fleet owners, truck and commercial vehicle operators, DIYers, and professional mechanics. So when you need any of these Newstar parts, do your shopping only here at FinditParts to find the best deals.