Fleet Engineers: Keeping Employees and Customers Safe with its Frontline Safety Shields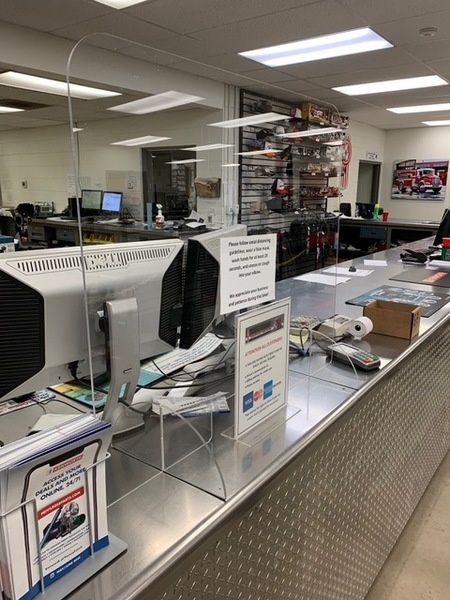 During the early months of 2020, the COVID-19 pandemic prompted a lot of companies, from local businesses to blue-chip giants, to put their operations on hold. Many were hurt financially, and owners were uncertain about how they could bounce back in the post-pandemic world.
Now, as the world starts relaxing its strict measures, companies and businesses look for ways to adapt and move forward safely and sustainably. They may be able to begin reopening their doors. Still, customers may be wary about being in an enclosed space with other individuals, such as the store employees and grocery cashiers. That is why preparations are necessary to ensure health and safety protocols are in place.
Companies and businesses whose employees need to work with the public or near others can rely on Fleet Engineers to guarantee safety for both their valued essential employees and customers. Although the company mainly manufactures aerodynamic solutions and door systems, it has revamped a section of its production line to do its part in helping stop the spread of COVID-19 in the workplace. Today, it is introducing the Fleet Engineers Frontline Safety Shields!
What are Frontline Safety Shields?
The Frontline Safety Shields are quick and efficient precautionary measures to a safe, secure, and comfortable space for customers and employees to conduct business. These are clear, freestanding protective barriers that are used to enforce social distancing measures at the service or checkout counters, desks, and reception areas.
Fleet Engineers primarily designed these safety shields to keep their distributors and dealers safe and secure during this pandemic. But these products are also ideal for use in other customer service settings.
Why the Need for Frontline Safety Shields?
Frontline Safety Shields are made for one main reason—stop the spread of COVID-19.
COVID-19 is an infectious disease that is mainly transmitted between people through "respiratory droplets" when symptomatic or asymptomatic people sneeze or cough. If a person is standing or sitting within one meter of a person with COVID-19, it is most likely that that person can catch the disease by breathing in droplets coughed out or exhaled by the infected person. That is why social distancing is strictly imposed, and people are advised to stay home and avoid non-essential travel.
But now that businesses and companies are slowly resuming operations, employees and customers alike need a protective barrier to separate them during unavoidable face-to-face interactions. This is to ensure that any coughing or sneezing in direct contact is safely avoided. And this is where Fleet Engineers' Frontline Safety Shield Sneeze Guards come into play.
What these safety shields do is to provide a durable, clear view while ensuring individuals on both sides are protected from any "droplets" expelled by sneezes or coughs. They provide a layer of defense against the severe acute respiratory syndrome coronavirus 2 (SARS-CoV-2), the strain of coronavirus that causes COVID-19.
What are the Options Available?
There are three options available for Fleet Engineers Frontline Safety Shields, and these include the smallest 16" x 30" Countertop Barrier, the medium-sized 24" x 30" Countertop Barrier, and the large 35" x 30" Countertop Barrier.
Frontline Safety Shields vary only in sizes. They share the same features and benefits such as:
Made of ¼" thick, durable acrylic for maximum durability

Have a 12" x 3" bottom pass-thru opening, perfect for in-person customer sales transactions

Designed with rounded edges and corners for smooth and safe touch

Shields are easy to disinfect and clean to ensure they are free from viruses

Effectively add an extra layer of protection where customers and employees need it most

Come with a sturdy design to last long in service

Lightweight and portable, offering a hassle-free installation

Proudly made in the USA
Where to Use These Protective Barriers?
Fleet Engineers is committed to keeping its employees and customers safe. So it added these protective barriers to its product line to ensure their safety during the resumption of operations of their distributors and dealers.
But the use of these Frontline Safety Shields is not limited to Fleet Engineers' vast network of stores and distributors across the United States. These are also ideal for:
Grocery Stores

Convenience Stores

Coffee Shops

Banks

Hospitals or Clinics

Front Desk or Reception

Retail POS

Pharmacies

To-Go Food Service Counters
And since these safety shields come in different sizes, business owners have the opportunity to choose which one best fits their countertop.
Where to Buy Fleet Engineers Countertop Barriers?
For 24/7 shopping convenience, feel free to make your purchase here at FinditParts. We are a one-stop shop supplying a wide range of heavy duty truck and trailer parts. We carry some of the best brands in the trucking industry, including Fleet Engineers.
FinditParts has partnered with Fleet Engineers to bring its products—including brackets, hinges, and other hard-to-find replacement parts for its vast array of roll-up doors, fenders, and mud flaps—closer to our customers. Today, we are offering yet another exciting product from this brand and that is the Frontline Safety Shield, which others refer to as a countertop barrier or sneeze guard.
Whether you are a Fleet Engineers distributor or dealer or you are a business owner looking for a reliable and effective protective barrier to keep your employees and customers safe, we've got you covered. Our comprehensive list of Fleet Engineers products includes the three options available for the Frontline Safety Shields: the 16" x 30", the 24" x 30", and the 35" x 30" countertop barriers. We named these products as personal protective equipment for counterpeople because they are made with their health safety in mind.
Shopping here at FinditParts has never been more convenient, thanks to our wide coverage of products and easy lookup feature that makes finding the exact part number that you need as easy as 1-2-3. Should you need assistance, our customer service team is just a call away.
Protect your employees and customers against COVID-19 with Fleet Engineers Frontline Safety Shield Countertop Barriers. In these challenging times, prevention is always better than cure.