Bendix: Keeping Commercial Vehicles Safe and Comfortable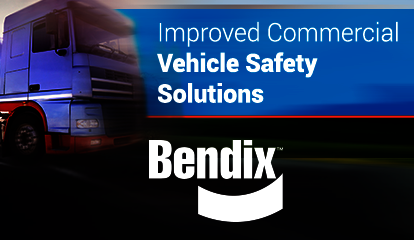 In 2015, the number of commercial vehicles in use in the United States stood at approximately 141 million. Out of this number, an estimated 415,000 vehicles were reportedly involved in crashes—83,000 (20%) injury crashes and 3,598 (1%) fatal crashes.
While commercial vehicles are implicated in only about 10% of fatal road accidents, keeping them well-maintained and ready for the road is of utmost importance. They are significantly larger and heavier than other vehicles, and they represent your business too. So, all the more, they must be up to standard before setting out, especially on long-haul trips, to maintain their safety and the safety of other road users.
Recognizing this, Bendix, the global leader in air disc brake technology, continues to develop improved safety solutions to keep commercial vehicles safe and comfortable while on the road. For nearly 90 years, the company has been setting the trucking industry safety standard through its comprehensive range of safety solutions.
Air Disc Brakes
Air disc brakes have increased in popularity over the past years. And that's because many truck manufacturers have made these components standard in their Class 8 vehicles, including Kenworth, Peterbilt, Freightliner, and International.
For decades, these manufacturers used the classic S-cam drum brake in their Class 8 tractors and trailers. But when changes in stopping distance laws were introduced, they discovered that air disc brakes provide better performance when sized correctly and used in the appropriate operating environment.
The advantages of air disc brake technology go beyond performance. Improved stopping distance, a decreased need for maintenance, weight savings for fuel economy and extra payload, and no brake fade as experienced with drum brakes are other notable benefits in using air disc brakes in vehicles.
Bendix air disc brakes offer all these advantages and more. And now, there's an even better reason to choose them for your trailer applications—the Bendix ADB22X-LT. Built on the same proven platform as its industry-leading ADB22X brake, the ADB22X-LT offers the same high braking performance, improved safety, shorter stopping distances, and longer service intervals that help prevent costly downtime.
Here are some of the amazing features of the Bendix air disc brakes:
Manufactured using advantaged engineering techniques

With a lightweight design proven to significantly reduce stopping distance and extend brake system life for commercial vehicles

Meets or even exceeds the federal stopping distance requirements mandated by the National Highway Traffic Safety Administration (NHTSA)

Offers fast and easy pad replacement, improving uptime for fleets

Comes with a new adjuster designed to extend pad life and reduce the risk of brake drag

Pads feature up to 40% improvement in wear rate and 8% more wearable volume
Anti-Lock Braking System (ABS)
Designed to help improve the braking characteristics of air braked commercial vehicles, the Bendix Anti-Lock Braking System, or simply known as ABS, uses wheel speed sensors, ABS modulator valves, and an ECU to control either four or six wheels of a vehicle.
The Bendix wheel speed sensor is a component that's used to obtain vehicle speed information for the anti-lock controller. Once the wheel rotates, the sensor and the rotor or tone wheel generate a simple AC signal, which is then transmitted to the controller.
The Bendix controller, which is also known as the Electronic Control Unit, analyzes the data sent by the wheel speed sensor and commands the ABS accordingly. It optimizes the slip between the tire and the road surface, so once it detects an excessive wheel slip or lock-up, it activates the ABS modulator valves to simulate a driver pumping the brakes.
The Bendix ABS modulator valve, once activated, helps control the braking function on individual or dual service actuators during anti-lock activity. Because of this crucial function, it is made using tough, durable material to ensure it withstands even the harshest operating conditions.
Spring Brakes
Designed as a diaphragm-type actuator, the Bendix spring brake provides three important functions: service braking, parking, and emergency braking. It is usually piped with various system arrangements so it can be manually or automatically applied during emergency braking situations. Often used in vehicles equipped with cam foundation brakes, the spring brake converts the energy of air pressure into mechanical force. The diaphragm is then held between a non-pressure plate and a pressure plate by a two-piece clamp ring.
Remanufactured Parts
While Bendix is a globally recognized supplier of OEM products to major truck and engine manufacturers, including Detroit Diesel, Mack, PACCAR, Navistar International, Daimler Trucks North America, and Volvo, it also takes pride in its remanufactured air system, braking, and safety components.
The Bendix Remanufactured Brake Shoes, for one, offers durable, reliable, and OE-like performance at an economical price. To restore its OE condition, it is coined in a press to return it to its original shape and specifications before relining it. It also goes through rigorous testing to ensure it works and fits just like the OEM component.
The same is true with the Bendix Remanufactured Compressor. It is subjected to strenuous testing and evaluation to restore it to its OE-like condition. But prior to that, rebuilding it includes replacing "wear" components, including washers, gaskets, and O-rings, with brand-new ones to maintain air quality and system operation.
Finding a balance between performance, comfort, road safety, and your bottom line may seem challenging. But when you choose Bendix as your fleet's trusted supplier of OEM and aftermarket air brake system parts and other components, you can start enjoying all these amazing benefits: maximized safety, lowered total cost of ownership, reliable information at your office, and better ROI.
Shop for your needed Bendix parts today. We, here at FinditParts, offer OEM and remanufactured parts from this brand at very competitive prices. Simply browse our catalog or use our quick lookup feature to find the exact part that you need in no time. If you can't find your needed part, feel free to contact us so we can assist you. Our friendly customer service representatives are ready to answer any of your queries.