NEOTEK: The World Leader in Brake Drums and Rotors for the OES and US Aftermarket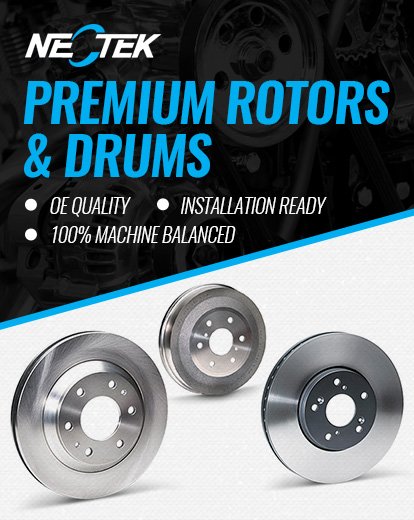 If it is a "do it once, do it right" result you want to achieve, get the job done with Neotek. This industry leader in the production and distribution of brake drums and rotors always puts quality first. Since Neotek's establishment in 1983, this Tennessee-based brake parts manufacturer has been supplying the OES and US aftermarket with top-quality products through its dynamic private label programs.
The Neotek name may not be as familiar to you as the industry giants, but the quality of its parts and the satisfaction you will get from them make this brand easy for you to recognize next time you need replacement. This brake steel company guarantees 99% vehicle coverage for domestic, import, and European sedans, SUVs, and light to heavy-duty trucks. The main ingredients to Neotek's recipe for success are premium-quality brake products, highly efficient Electronic Data Interchange (EDI), direct import supply chain management, outstanding customer service, excellent product category management, as well as customer-specific options for materials and coating.
Neotek also sets the industry standards for customer service and product quality. It has a Total Customer Satisfaction system in place, used in all its manufacturing facets and business operations, from product design and production to distribution, sales, and marketing.
Brake Rotors
The Neotek brake rotors are a product of Neotek's commitment to innovation. This brand leverages the latest breakthroughs in brake technology to develop solutions that ensure superior braking performance, which is characterized by a better pedal feel and more controlled stops.
Manufactured using the company's cutting-edge in-house processes inside its fully vertical production facility, Neotek brake solutions are proven to meet or exceed industry standards.
To ensure quality and durability, Neotek subjects its brake rotors to the following procedures before they are rolled out of the assembly line:
high-efficiency metalworks

advanced CNC machining

topnotch finishing and coating processes

automated packaging
Neotek made significant investments in its company assets to tell the automotive and trucking world how dedicated it is to quality, innovation, efficiency, and technological transformation. No wonder, Neotek's brake solutions are globally recognized for their OE-quality materials and metallurgy, as well as their 5-point exceptional performance measures, such as durability, quiet operation, safety, comfort, and rust prevention.
Crafted from premium-quality raw materials, the Neotek brake rotors are 100% mill balanced and treated with a dry-rust preventive coating. They meet the industry's rigorous foundry requirements and are packed installation ready.
Premium rotors from Neotek are manufactured with high-caliber raw materials under strictly controlled procedures. They are machined to OE/OES level tolerances to guarantee superior performance. These rotors below are some of the many reasons Neotek premium rotors outperform the competition:
High-carbon G11H18 material
This high-grade material provides Neotek premium rotors with remarkable heat transfer and sound dampening characteristics for unparalleled quality and performance.
Spectrometer, tensile strength, and hardness tests
With meticulous spectrometer testing, these premium rotors ensure accurate carbon content and correctly sized graphite strands. The carbon content is important because it affects the part's thermal conductivity and the rotor's operating temperature.
Tensile strength and hardness tests are also done to know if the rotors pass the required ratio for G11H18 standards.
CNC machining
For proven reliability and consistent quality, Neotek follows stringent machining requirements for run-out, disc thickness variation, parallelism, as well as mounting and brake surface flatness. Premium rotors are also provided with CNC fine-turn finish, making them look like the OE part while minimizing surface finish roughness.
Mill-balancing
Neotek premium rotors are also mill balanced to specifications that are more than 50% tighter compared to industry-standard rotors. Mill machining reduces vibration and helps achieve smooth stops.
Environmentally-friendly coating
The rotor's non-braking and exposed surfaces are provided with an environment-friendly coating with a dry rust inhibitor for protection against rust and corrosion.
Neotek also offers standard rotors for those who are looking to replace their worn-out stock. Molded from industry-standard G3000 SAE material and provided with high-caliber casting, these rotors are ready for strict CNC machining and product testing. The company's part specialists and engineers adhere to the industry's highest standards in machining tolerances. This is to ensure that though they are called standard rotors, they still have the edge over the competition.
After CNC machining, standard rotors are provided with a cross-directional finish for a smooth surface and dependable brake pad seating. Like premium rotors, standard units are also 100% mill balanced to cut down, if not eliminate, vibration while braking.
Brake Drums
Neotek brake drums meet the tough braking demands of today's trucks and vehicles. They are well-engineered to help ensure the safe stopping or slowing down of vehicles and maintain their alignment while braking. Like the Neotek rotors, you can get these brake drums installation-ready, right out of the box.
These brake drums are developed through Neotek's world-class in-house engineering, which includes a series of rigorous tests and process controls. To make Neotek drums ready for machining, they are provided with high-quality casting. These drums are then CNC machined to meticulous industry standards to deliver outstanding quality and durability that satisfy the customers' needs.
In the brake shoe area and right where the brake shoe backing plates generate noise, additional machining and finishing are performed. The drums are also 100% balanced to prevent vibration; then, they are provided with a dry rust inhibitor for unparalleled resistance to rust.
When you are constantly replacing your squeaking or worn-out brakes, it will be so much easier for you to distinguish a top-quality brake part. Try the first-rate Neotek brake drums and rotors from FinditParts, and experience the difference.
Here's good news to truckers, fleet managers, and vehicle owners: FinditParts offers the Neotek brake parts you need at prices that won't break the bank. We, here at FinditParts, aim to protect the vehicle and its driver and occupants by providing first-rate safety solutions for various applications. Check out our comprehensive online catalog and order topnotch Neotek brake products that guarantee worry-free installations.