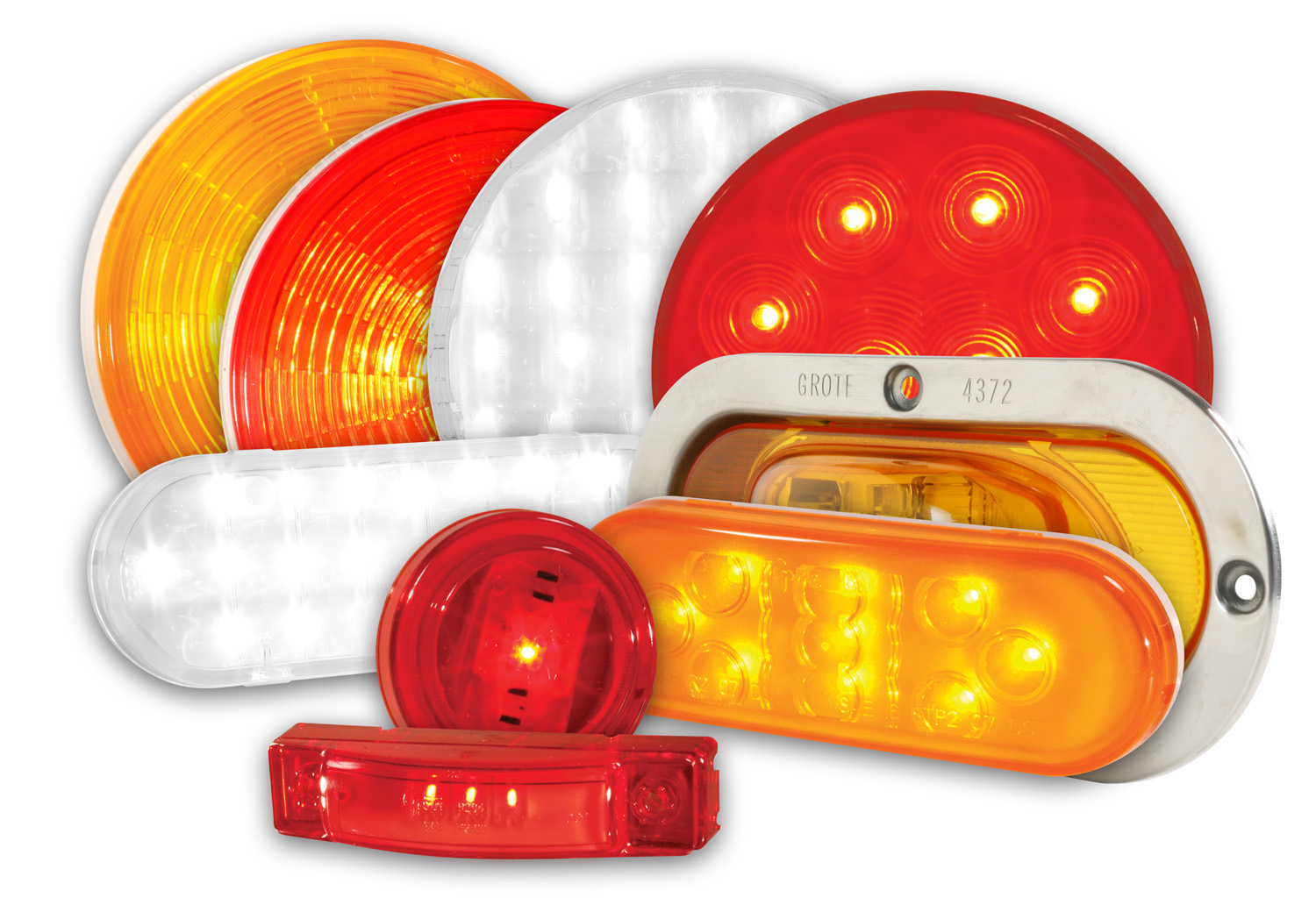 Whether you're highballing down the highway or making your way off-road, around town or across the country, safety for you, your passengers and cargo should be paramount. Among the top requirements for a prosperous journey is good illumination. A properly working lighting system is key to getting there and back intact.
But the automotive after-market is flooded with a dizzying array of lighting products for heavy-duty trucks and off-road industrial vehicles. At first glance, choosing the best product for your rig can seem like a tough task.
One simple solution is to shop the big inventory of Grote truck lights and parts available online at FinditParts.
About Grote
Founded in 1901 by William Grote, Grote Industries remains family owned and operated today. That suggests this is a company that really cares about the quality of each product that bears its name. Grote has been making vehicle parts practically since motorized vehicles began using the roads, so you know you can count on this company's experience and know-how.
Over the decades, Grote has earned a reputation for innovation as well as quality. From its humble origins in Indiana, it has become one of the world's leading manufacturers of vehicle lighting and safety systems. Some of its notable manufacturing achievements include creating the first fully automatic plastic injection molding machine in 1929, introducing the first LED marker light in 1989 and offering the first LED forward lighting on the road in 2004.
Why Grote Lights?
If you're a fleet manager or own and operate your own rig, you'll want to consider Grote Industries products to maximize safety and efficiency. These items will ensure drivers and their vehicles will see and be seen. The right headlights will help your vehicle stay on course. They will let the operator spot hazards ahead and take appropriate actions to avoid collisions. This can save lives, property and time in the short run and avoid costly lawsuits in the long run.
Just as important, marker lights, brake lights, turn-signal lights and other illumination will help make sure that your vehicle is seen by others. These lights will help avoid accidents as well as problems with law enforcement, which can cost you a lot in terms of time and money if your lighting and safety accessories aren't working properly on the road and you're pulled over by a state trooper or local sheriff's deputy or police officer.
The LED lighting products made by Grote boast all the advantages of this modern lighting technology. Short for light-emitting diodes, LEDs require minimal energy to operate but will provide extra-long life. That means you'll spend less time and money buying and replacing these lights.
Grote commercial LED vehicle lights are available for semi-truck, bus, van and off-road industrial vehicles. These products will withstand the grueling, hard use that goes with commercial driving. You don't stop working just because the weather won't cooperate, and Grote products will keep working with you, rain, snow or shine.
You can find Grote LED headlights in a variety of sizes, shapes and styles to fit virtually any rig. These DOT-compliant headlights can decrease drivers' eye fatigue and provide sharper detail of the road ahead to help avoid accidents. These lights feature quality materials like die-cast aluminum housings and UV-protected polycarbonate lenses.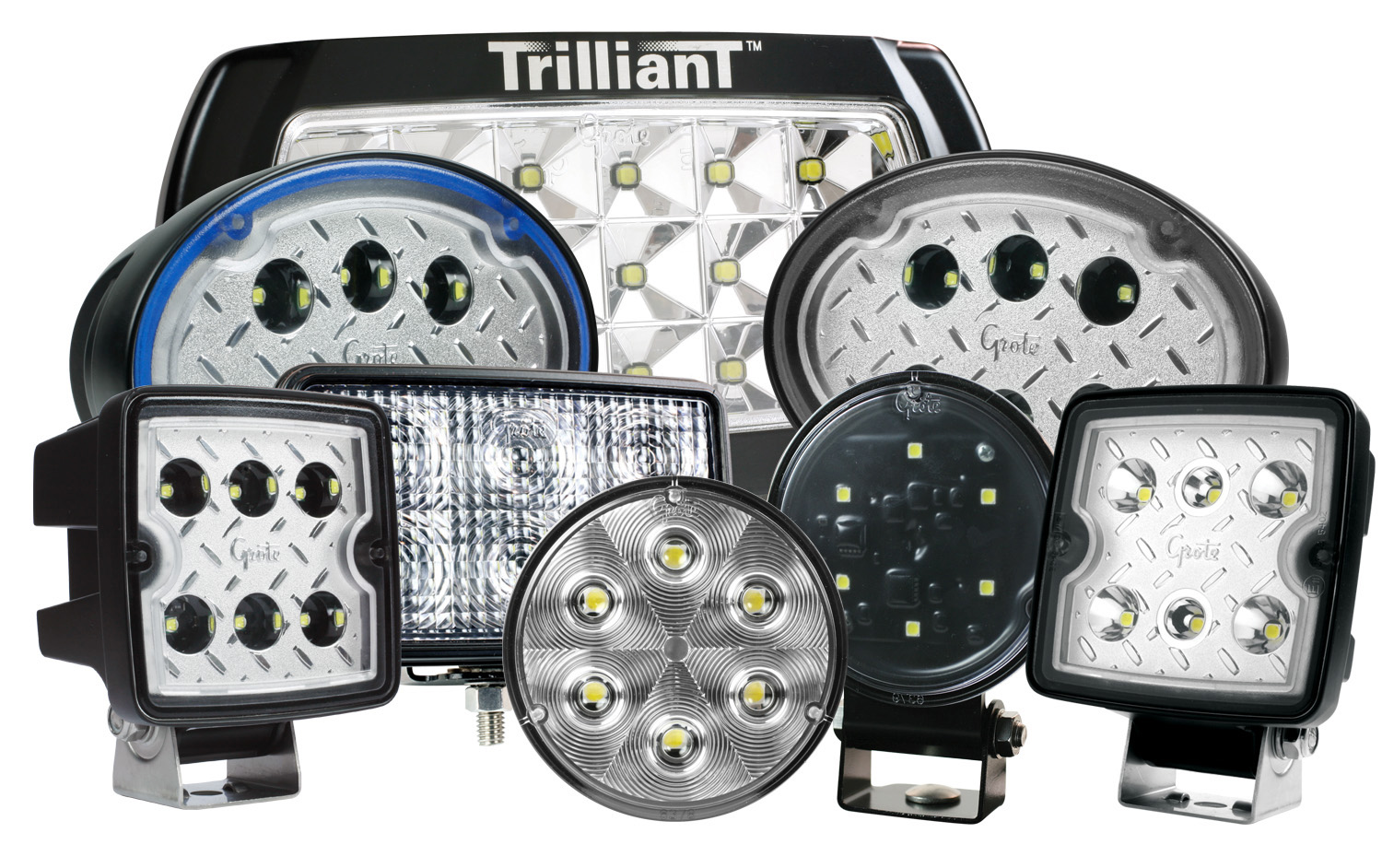 For continuing onward through the fog, Grote fog lights offer a sensible solution. If you drive in fog-prone areas or make long hauls where changing conditions are always possible, these lights can pierce the heaviest gloom, from the tule fog of Central California to the maritime fog often encountered in coastal regions.
Grote also makes lights to make sure your vehicle will be seen and that your intention and direction will be clear to other drivers. Marker lights will help others orient to your rig. Turn lamps will alert motorists to your next move, whether you are changing lanes or changing direction.
Grote stop lights will help avoid costly rear-end accidents. To provide extra security and visibility on the back of your rig, Grote makes stick-on tape reflectors. To make sure you're seen when stopped on the side of the road or moving slowly up a steep grade, Grote hazard lights are a must.
If your rig has been in a fender bender, bumped into or against a fixed object or been vandalized, Grote makes a variety of replacement lenses. These are available in all the standard colors, including red, amber and clear. You'll find a variety of sizes and shapes to fit just about any rig. Inexpensive and easy to install, these can have you street-legal, back on the road and safe in no time.
Inside your rig, you can shed some light on any subject you need to look into with a Grote dome light. Grote's LED WhiteLight dome lights are three times brighter than typical dome lamps, making it easy to see what you're looking at and reducing eye strain. Multiple mounting options make these lights versatile for many rigs and uses.
For heavy-duty, off-road commercial situations, Grote also has you covered. Its floodlights and work lights will help you see, whether you're working overtime at night or operating during normal hours at daybreak or twilight. Grote makes these lights for logging operations, farm and construction tractors, ATVs, UTVs and a variety of other vehicles.
Not Just Lighting
In addition to lights, Grote makes all the lighting accessories you will need to install, repair or upgrade your vehicle's lighting system. These include harnesses, switches, terminals, solenoids and other parts that deliver the same quality as Grote lighting. You can also find Grote truck-safety parts, like back-up alarms, horns and speakers.
If you're not sure which part is right for your rig or have other questions about lighting and safety products, feel free to call us toll-free or email us. Our friendly customer service staff will be happy to answer your questions.
We can provide fast, easy shipping and many products qualifying for two-day delivery. Our inventory of more than 9 million parts and our competitive pricing make us your one-stop shop for heavy-duty truck, automotive and off-road industrial vehicle products.