10 Essential Tools Truckers Need in Their Toolbox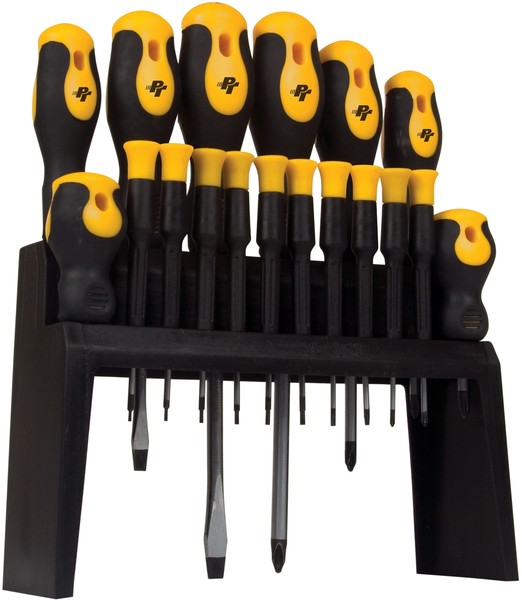 Long-haul truckers spend time on the road most days of the week. Though they are not expected to possess mechanical skills, truckers should have enough know-how about their trucks and bring with them on their trips some tools that could help them get moving should "once in a blue moon" situations occur. If you are making or completing your own or your trucker's toolboxes, these tools are perfect for you:
DOT Reflective Triangles
Since it is inevitable for trucks to break down at some point, all commercial vehicles and truck tractors are required to have DOT reflective triangles. When purchasing reflective triangles, go for those that are DOT (Department of Transportation) approved. It pays to choose triangles with a storage case to avoid damaging or losing them. They should be marked or stamped as being DOT approved; if you are not sure, email or call the seller or manufacturer to find out.
Tow Rope/Strap
Designed to hook into shackles and towing points, tow ropes are fitted with large metal hooks at each end. They are made durable enough to tow vehicles, pull equipment, move debris, or secure cargo. When you're looking for one, tow ropes that are weather-, abrasion-, and wear-resistant and built to high standards are worth your bucks. You should also consider the strap's working capacity.
Booster Cables
When it comes to booster or jumper cables, durability matters a lot. And no truck tool kit is ever complete, especially during the winter without a set of these durable cables. Regardless of how your battery died, your jumper cables must give it the juice needed to charge the battery and make it last long enough to take you to your destination. The ideal booster cable should be at least 20 feet long and must be heavy-duty and tangle-free.
Multimeter
An indispensable tool for truckers, the multimeter aids in diagnosing, testing, and troubleshooting electrical components, circuits, and devices. This tool, in truck applications, ensures accurate measurements and is primarily used to measure current, voltage, resistance, and more. When choosing one for your truck tool kit, your primary consideration should be the price, type of multimeter, key features, portability, frequency of use, mounting device, and additional features and attachments.
Rechargeable Headlamp
One of the most welcome additions to your toolbox is a rechargeable headlamp. This allows you to go out into the dark while freeing your hands so you can do other important tasks like fixing something in your truck or carrying other tools. This lamp produces an extra bright LED light beam to provide the kind of illumination you need where you need it. Most rechargeable headlamps, including the Coast HL8R Rechargeable Pure Beam Focusing Headlamp, have three modes to choose from—low, medium, high. This headlamp is impact and weather-resistant, and its LED is durable and virtually unbreakable.
Hammer
A handy tool for auto restoration work, the hammer is ideal when you are performing chassis or brake work, rebuilding a transmission, doing leaf spring and suspension fixes, seating seals and bearings, and dealing with some engine-related repairs. The most common weight range for hammers for automotive and truck use is from 2 oz. to 48 oz. Remember, though, that when you are striking a truck part with a hammer, you should hit it square on, with the hammer's face as parallel as possible to the surface being hit. This saves you from chipping or deforming the part you're striking with the hammer.
Multitool
To provide users with the ultimate convenience, the multitool is packed with a bevy of blades and tools in one handy device, making it way more versatile than a pocket knife. A good multitool is lightweight, easy to carry, durable, and contains the right tools for your needs. The Leatherman Super Tool® 300 Multitool, for one, is surprisingly portable, given the host of tools it contains. It houses 19 tools, including a saw, wood metal file, various screwdrivers, wire stripper, pliers, and standard wire cutters in its sturdy stainless-steel body.
Screwdriver Set
The screwdriver sets are among the most popular tools used by professionals and DIY enthusiasts. These tools come in handy when installing and uninstalling screws or fasteners, relying on the operator user's physical strength to provide accurate force for clockwise or counterclockwise turning via screwdriver handle. Among the most popular drive tips are Hex, Phillips, Flat, Pozidriv, and Torx.
Ratchet and Socket Set
Convenient and versatile, the ratchet and socket sets are widely used by professionals or DIY/enthusiasts for their truck maintenance projects. They are used in tightening or loosening fasteners of various types and sizes. They are also a must-have for home garages since standard socket sets contain attachment sizes that suit the nuts and bolt gauges commonly found on buses, cars, trucks, and other vehicles. A ratchet and socket set can make even a tricky task easier by providing an extra level of user-friendliness.
Vice Grips
Every mechanic or DIYer needs an extra set of hands when doing fixes. This is where a vice grip comes into play. This tool has a locking feature that allows some components to be clamped tight and remain that way while cutting, measuring, releasing a stripped bolt, or doing other maintenance or repair tasks. Also called locking pliers or mole grips, vice grips are a valuable addition to a trucker's toolbox.
Whether you are making a new trucker's toolbox kit or replacing some damaged tools in your existing toolkit, FinditParts carries a wide breadth of high-quality and cost-effective tools for you to choose from. We offer all the tools mentioned above—plus many other products like spare fuses, hose clamps, tire pressure gauges, fire extinguishers, bungee cords, cable ties, and duct tapes—at fair market prices. We also guarantee reasonable rates for our fast and speedy order delivery. You don't have to worry about finding the exact tool you need from our massive part inventory. Our quick look-up feature allows you to find the part you need in just a few seconds. Shop with us today and enjoy a hassle-free online shopping experience.