Haldex: The Brake and Air Suspension Systems Expert for Heavy Vehicles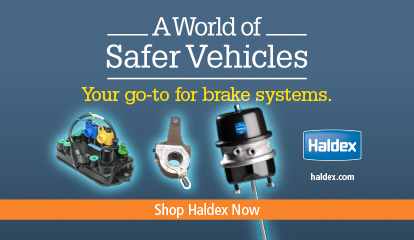 For businesses who rely on their commercial trucks and heavy vehicle fleets, running on schedule is everything. Their heavy vehicles must depart and arrive on time and ensure their cargos get where they need to go. They simply can't afford to have inefficient vehicles and high breakdown rates because their businesses will sure pay the price.
However, despite their large size and durability, commercial trucks and heavy vehicles are bound to break down at some point, especially if they run round the clock. That is why fleet managers and operators must stay on top of preventive maintenance to avoid the risk of unplanned downtime, costly emergency repairs, and safety hazards.
Among the most critical systems that must be properly maintained in heavy vehicles are the brake and air suspension systems. These systems are now widely used because of their considerable advantages, including higher riding comfort, less mechanical wear on components, and increased safety. But just like any other system in your vehicle, they too deteriorate over time, and this is partly due to worn-out or malfunctioning parts.
Good thing, high-quality replacement brake and suspension parts are widely available online. One brand sure stands out when it comes to these products, and it's no other than Haldex.
About Haldex
Haldex is a leading manufacturer and supplier of reliable and innovative brake and air suspension systems. Its products are manufactured with improved safety, environmental sustainability, and vehicle dynamics in mind. The company mostly caters to large truck, buses, and trailer manufacturers in North America, Asia, and Europe.
Haldex has already come a long way since it was founded in Landskrona, Sweden in 1887 by the entrepreneur Henning Hammarlund. It is still headquartered in Landskrona. But its operations have already gone global, with more than 2,200 employees spread across 19 countries, including Sweden, China, Germany, Brazil, Mexico, and the United States.
True to its tagline, "Creating a world of safer vehicles," Haldex is committed to developing innovative and groundbreaking technological vehicle solutions that will enhance safety for heavy vehicles. Here are two of the most notable products included in its comprehensive line of brake parts and air suspension systems:
ABA
Haldex's complete line of brake adjusters covers more applications than any other brand. That is because Haldex offers not just one but two ABA options for customers' varying needs. These include the well-established AA1 automatic brake adjusters and the new generation self-setting automatic brake adjuster (S-ABA).
AA1 Automatic Brake Adjuster
The Haldex AA1 model is used on various applications, including drive axle, steer axle, tractor/trailer, and trailer axle applications. It is made compatible with all major brand clevises, and it is backed by the industry's longest warranty. Its features include the following:
With heat-treated housing for maximum corrosion and wear resistance

Effectively seals out moisture and contaminants with its reliable gaskets and O-rings

Offers ease of adjustment since it's designed with an easily accessible hex nut

Assures proper installation and eliminates templates with its integrated installation indicator

Control arm provides greater application flexibility and eliminates linkage issues

Built to offer increased fatigue strength because of exclusive after-rolling process for the wormshaft
S-ABA
To provide customers with faster, simpler, and more efficient brake adjuster installation, Haldex introduced the S-ABA. It is the first automatic brake adjuster that is both self-setting and flexible. So, this means its control arm can be adjusted at any angle, and the brake adjuster will work correctly whatever the position. Here are some of the notable features of the Haldex S-ABA:
With a self-setting control arm that can be positioned from -16 degrees to 130 degrees

Provides optimal lining to drum clearance with its sensitive adjustment rate

Designed to solve axle configuration problems

Offers streamlined stock-keeping and works with wear sensor

Designed for cross-range compatibility to suit virtually all customer's installation needs
If you are looking for manual brake adjusters and CSI brake adjusters, Haldex has also got you covered. From heavy duty straight arm to offset and straight arm manual brake adjusters, this brand has got what you need and more. Clearance-sensitive brake adjusters also form part of its portfolio, with one part number covering left and right side installation.
Air Dryers
Heavy vehicles with air brakes have an air compressor on the engine. This helps keep the air tanks full, so your vehicle is able to stop right when you need it because there's always air available.
All air has a certain level of humidity. This means that even if you often drive in an area with a dry or damp climate, there is always water vapor in the atmosphere. And as air is heated when compressed, it cools once it travels through the discharge line to the air tank. The cool air then leads to condensation, which later on create pools of water or moisture in the bottom of the air tank.
Liquid, vapor, and other contaminants can affect the air brakes' performance. So, this is where air dryers come into play. These products are designed to minimize the amount of moisture and contaminants that get into the air tanks.
Haldex offers a vast range of air dryers, either new or remanufactured, for many truck makes and models. And among the most popular air dryers from this brand includes the DRYest® Air Dryer and the PURest® Air Dryer.
DRYest® Air Dryer
The DRYest® Air Dryer is designed to extend the air suspension system's life by integrating crucial components, such as the turbo protection valve, regeneration valve, muffler, governor, and heater, into one complete package. Its features are:
An extended service air dryer specifically designed for use on system purge applications

Ensures dry system air with its Multi-Treatment Cartridge

Has an integrated heater to keep the dryer from freezing and getting damaged

Offers ease of installation as it comes in an ultra-compact size
PURest® Air Dryer
The PURest® Air Dryer is also an extended service air dryer, only that it's designed for use on integrated purge applications. It features a large integrated purge volume so no need for a separate purge tank to ensure only clean air goes through the system. Other features of this product include:
Helps improve fuel efficiency and reduce engine horsepower loss with its Integrated turbo protection valve

Ensures dry system air with its Multi-Treatment Cartridge

Offers retro-fit installations as it comes with a universal mounting bracket

Designed to fit PureAirPlus™, DRYest®, AD type, and SS type air dryer bolt patterns

With a 4-bolt mounting bracket that allows for easy cartridge servicing
To find more of what this brand has to offer, feel free to check out our expansive catalog of Haldex parts. FinditParts is your one-stop shop for all your heavy duty truck and trailer repair and maintenance needs.