Personal Protective Equipment for COVID-19: Getting Ready for the New Normal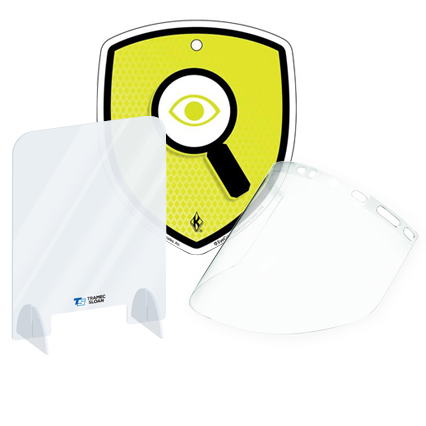 Make no mistake: the COVID-19 crisis has not yet ended, and no one can tell when this pandemic will be over. While many people are still waiting for things to go "back to normal," it's becoming increasingly clear that the world will never be the same once this pandemic passes. And to survive and thrive in this so-called "new normal," companies and businesses—from the sole proprietor to the major corporation—must accept the situation and learn how to adapt to it.
For many business owners and company leaders, this unprecedented crisis is a good time to ask, "How do we accomplish our goals without compromising the health of many?" In the absence of a vaccine, it's really good to note that employees' and customers' health and safety must be top priorities while conducting business. If you take steps to protect their health and safety, your business stands a better chance of surviving and growing and ultimately achieving success in the new normal.
Changes like social distancing and wearing masks will become a way of life for the foreseeable future. So, your first step to getting ready for the new normal is to invest in personal protective equipment for COVID-19. Here are the products that you may consider:
Countertop Barriers
Protect your employees and customers from COVID-19 by installing countertop barriers at the workplace. These barriers are specifically designed to provide a durable, clear view while keeping a safe, secure, and comfortable space for employees and customers during unavoidable face-to-face transactions. They help enforce social distancing measures at the front desks, reception areas, and service and checkout counters.
To help curb the spread of COVID-19 in the workplace, manufacturers like Fleet Engineers and Jackson Safety have revamped a section of their product lines to include these barriers.
Fleet Engineers Personal Protective Equipment for Counterpeople
Fleet Engineers initially produced the Frontline Safety Shields to keep their dealers and distributors safe during the pandemic. But these products may also be ideal for other customer service settings, such as grocery checkout counters, pharmacies, banks, clinics, and food service counters. They come in three different sizes: the small 16" x 30", the medium-sized 24" x 30", and the large 35" x 30" barriers.
Jackson Safety Personal Protection Barrier
Just like the Frontline Safety Shields, Jackson Safety's Personal Protection Barrier is also designed to protect workers from COVID-19 and other germs and respiratory droplets. But what makes these physical barriers different is that they are designed with polyurethane rollers, allowing easy transfer to different locations.
Ideal for healthcare facilities, office environments, and manufacturing facilities, the Jackson Safety glass-framed barriers are easy to clean and sterilize and come pre-assembled for quick, trouble-free installation.
Gloves
Gloves are some of the most commonly used safety products in the healthcare industry. But in the new normal, anyone can benefit from using these products, including those in the manufacturing industry. They don't only provide hand protection, but they also help keep germs and infection from spreading.
Gloves come in many different types to suit different needs. To know which one best fits your needs, check out these options from SAS Safety Corp, AMMEX, and Microflex:
SAS Safety Corp Gloves
SAS Safety Corp offers a comprehensive line of SAS Safety Corp gloves, available in many different types, including disposable and dipped. Under the disposable gloves, the brand provides nitrile, latex, and vinyl gloves.
Nitrile gloves are best for those who are allergic to latex. But when latex allergies are of no concern, then latex gloves may be the better options. These are a popular choice of protective gloves for medical or industrial use.
For a more cost-effective option, choose vinyl gloves. They offer a thinner mil thickness with a looser fit than latex and nitrile gloves. And they are great for light-duty cleaning, painting, parts assembly, and lab and food service environments.
Most SAS Safety Corp disposable gloves are powdered-free, but powdered options are also very much available.
AMMEX Gloves
For automotive and industrial applications, the AMMEX gloves are your best bet. These are 20% thicker than standard common nitrile gloves. And they are textured for better grip, ideal for both wet and dry conditions.
Microflex Gloves
When you need hand protection against harsh chemicals, including acids, base, and solvents, Microflex gloves are the perfect choice for the job. These come in resealable zipper bag closure to keep unused gloves clean.
Masks & Face Shields
Since the onset of this pandemic, there has been a lot of discussion around mask wearing in the US. But health experts could not emphasize more the importance of wearing masks & face shields to protect yourself and others around you, especially in public settings where social distancing measures are difficult to maintain.
SARS-CoV-2, the virus that causes COVID-19, can be spread even by infected people but show no symptoms, so wearing a face mask or face shield decreases a person's chances of being infected by this virus. If you're looking for brand-new masks and face shields or looking to replace the shield and other components of your existing face shield, here are some of your options:
Jackson Safety Masks and Face Shields
Designed primarily to keep infectious agents from entering the body, the Jackson Safety masks and face shields provide all-day comfort and dependable solutions for healthier breathing at home or the workplace. These products are made following strict safety guidelines to guarantee 100% reliability and efficiency.
All Jackson Safety masks' service life is limited by considerations of hygiene, damage, and breathing resistance. While for face shields, the brand offers various replacement face shield parts such as window or shield, head gear, adapter bracket, and more to restore your face shield's like-new condition.
SAS Safety Corp Face Shield and Accessories
If you are not a fan of face masks since they can be hot, irritate the skin, fog glasses, and make it difficult for you to breathe, you can always go for SAS Safety Corp face shields. These face shields are specifically designed for those who go about regular daily activities and not in a high-risk health care setting.
Firepower Replacement Shield
Firepower, a renowned name in metal cutting, gas control, and specialty welding solutions, offers this high-quality Firepower replacement shield to keep you protected against paint and mild chemicals while performing maintenance and servicing tasks. But this product can also be used as personal protective equipment, along with a face mask.
Sellstrom Face Shield and Accessories
Sellstrom offers a wide range of personal protective equipment, including face shields, safety glasses, and more. The Sellstrom face shields, for one, come in a variety of designs, sizes, and colors, providing customers more options for their specific needs.
Stickers & Signage
The use of safety stickers and signages is no longer limited to healthcare facilities as businesses and companies welcome the new normal. That is why JJ Keller, a trusted source for DOT Transportation, OSHA Workplace Safety, Construction and Human Resources (HR) products and services, adds a new line of signages & stickers in its product catalog. This product line includes PPE inspection reminders, PPE Awareness laminated posters, and PPE Pay Per View training programs.
All these stickers and signage, countertop barriers, gloves, masks, and face shields are available right here at FinditParts, your one-stop shop for hard-to-find heavy duty truck and trailer parts. We are one with the world in preventing the spread of COVID-19, so we take pride in offering this comprehensive line of personal protective equipment. The end of this pandemic may still be far from sight, but together we can overcome the challenges by ensuring the most vulnerable among us are protected.