Meritor Service Point Program - ISG's Earn Meritor Stamp of Approval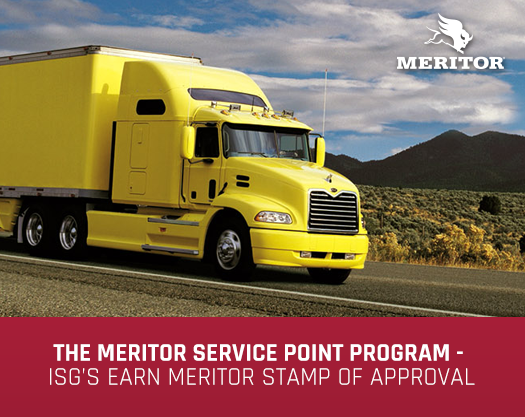 In early 2015, Meritor, the industry leading after-market heavy duty truck parts supplier, launched the Meritor Service Point Program. Initially tested with positive results in Europe, this innovative educational and support program is new to the US and Canadian markets and promises to augment the relationship between Meritor and independent service garages (ISG's) nationwide.
According to Marty Hetherington, manager, brand and marketing, aftermarket, the program aims to "...foster a better relationship with these independent service garages so that they understand our brand and our products and exactly what different levels of product offerings we have for them. That way when they need to fix someone's vehicle, they can ask for a Meritor part instead of just going to the distributor or the dealer and letting them make the choice. "
The program is broken down into three major components:
Education
Meritor's goal is to provide these ISG's with the competitive advantage of diagnosing and repairing commercial vehicles with the right Meritor parts; this requires knowledge of proper installation techniques and extensive product knowledge. Through the Meritor Service Point Program, ISG's will receive online product and technician training to ensure they can service their customer's vehicles in the most efficient, effective means possible.
Part Assistance & Accessibility
According to Hetherington, one of the biggest hurdles faced by ISG's is the ability to find the proper part quickly and efficiently. That is why the second major benefit to the Meritor Service Point program is crucial - part assistance and accessibility. ISG's approved in this program will have access to Meritor's online parts catalogue, making it easier and more efficient to locate the parts they need. They'll also be privy to Meritor's technical support, which also augments their ability to properly service their customer's vehicles.
Brand & Marketing Support
The third major component to the Meritor Service Point Program is marketing support. ISG's that earn the Service Point seal of approval will be given branding and marketing tools to help identify themselves as being program participants. It is Meritor's hope that this will strengthen the ISG's visibility to fleets and drivers who know and respect the Meritor brand.
According to Hetherington, the hope is that this program will not only increase their brand awareness, but also "generate the sort of environment for ISG's where they feel like they are apart of the Meritor family." To find out more about becoming a Meritor Service Point approved independent service garage or to find a Meritor Service Point garage to service your vehicle, visit MeritorServicePoint.com.