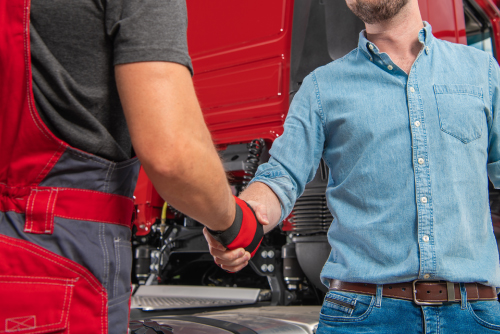 On the surface it might seem as if brick-and-mortar truck parts distributors and online entities that sell truck parts should be sworn enemies. And while there is no denying that the two groups are competitors, the reality is that online parts sellers can be a powerful tool to help traditional parts distributors meet their customers' needs.
Distributors are limited in the amount of inventory they can carry because they are constrained by the size of the building in which they are located. Of course, if they want to carry more inventory, they can move to a bigger building but that comes with a hefty price tag and might not be the best solution to solving the inventory problem. Online parts sellers might not actually carry the inventory of parts they offer, but rather have access to parts from a variety of sources making their inventories almost limitless.
Perhaps instead of looking at online parts sellers as enemies, distributors would be better serviced looking at them as a way to extend their own inventory. Having access to an inventory with more breadth and depth will allow distributors to better fill their customers' parts needs.
If a distributor doesn't have the part in their own inventory, they can order it online and, in many cases, get it in a day or two. Given the competitive nature of the truck parts aftermarket, distributors are wise to keep their customers from going to a neighboring distributor for a part. If a customer goes elsewhere, the distributor runs the risk of losing all their business to a competitive local distributor. And in this time of supply chain disruption — which makes finding parts a challenge — the person who can actually get the part wins the customer.
There is a common misperception among distributors that online parts sellers only carry off-brand or knock off truck parts. The reality is that many online parts sellers are carrying the same branded parts as the typical distributor. When doing business with online parts sellers, distributors need to make sure that there is a no-substitution policy when it comes to the brand of part ordered. This will ensure that the distributor gets the part they ordered from their preferred manufacturer which matches what their customers want. While some fleets are willing to accept a substitute part, many others are brand loyal and want to stick with a brand they know has worked for them in the past.
Distributors should look at their relationship with an online parts seller the same way they do their relationship with the local truck dealer. In public truck dealers and distributors will tell you they are fierce competitors. To some degree that is true. But in the day-to-day reality of meeting their customers' needs nearly every distributor has purchased a part from a dealer in order to fulfill a customer request. And I am equally sure that many dealers have ,at some time in their history, purchased a part from a distributor. The customer needed it, the dealer did not have it, but rather than send the customer to the distributor, the dealer made the purchase from the distributor without the customer ever knowing where the part actually came from. All the customer knows is that they got the part they wanted.
If distributors look at online parts sellers this way, they can see that being frenemies can have its advantages.