8 Crucial Steps to Keeping Truck Driver Safety During Protests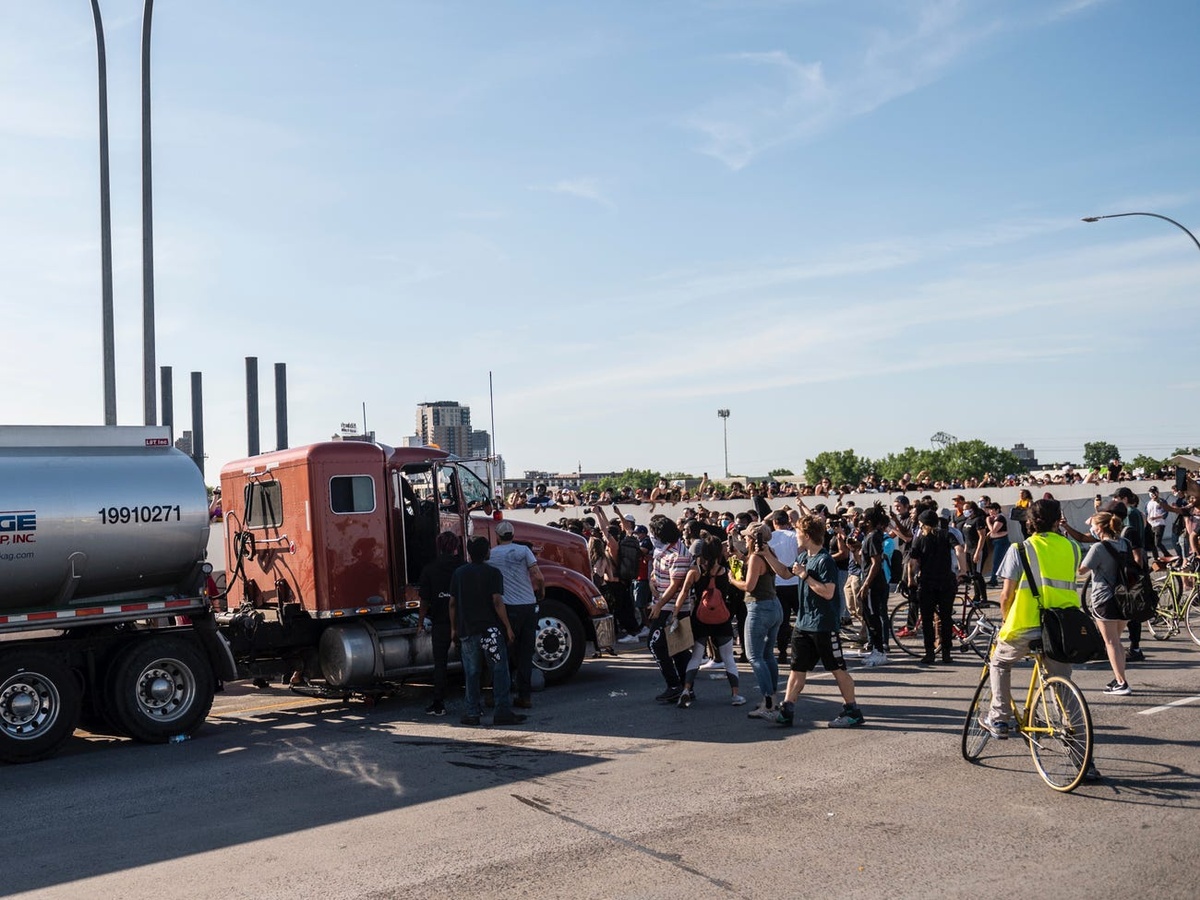 Image Source: Business Insider
In Minneapolis, the George Floyd protest that began peacefully on Tuesday, May 26 has turned into an ongoing series of civil unrest. Truckers are advised to use caution before entering any protest area with demonstrators and police clashing in bloody confrontations in the city's streets.
Trucking companies are no strangers when it comes to dealing with protests. During the 1992 Los Angeles protests, a trucker named Reginald Denny was once pulled from his truck and beaten nearly to death. This incident serves as a constant reminder for truck drivers to take extra precautions as riots and protests can break out anytime and anywhere.
True enough, George Floyd protests have now spread from Minneapolis to nearly 140 cities across the country in the last two weeks. And as if truckers are not battling enough right now with the challenges brought by the COVID-19 crisis, they might find themselves at an increased risk of personal injury or even death for only doing their jobs.
For fleet managers, commercial vehicle operators, or heavy duty truck owners, here are 8 crucial steps to keeping truck driver safety during protests:
1. Avoid areas where protests are scheduled to happen
Trucking companies must ensure they are not putting their employee drivers in a no-win position. So, the first thing that you can do is to advise drivers to avoid areas where the potential for violence is high. Many major cities have dedicated resources that compile lists of local protests—check these sites and relay the information to your drivers so they can adjust their routes accordingly.
2. Contact the delivery location and ask about the current situation in the area
There's no better way to know the current conditions at the exact and surrounding area than to call someone from the delivery location. If the conditions are far from safe, then try rescheduling the delivery or come up with an alternative option.
3. Call the local police for assistance
If these areas where demonstrations are expected can't be avoided, trucking companies are advised to call their local police beforehand for assistance. You can provide the local police with the address of delivery or pickup to know which is the safest route that your drivers can take.
4. Observe constant communication
Should your drivers need to go to an area that experiences a lot of demonstrations, constant communication is key to ensuring their safety. Drivers should keep their immediate superiors updated on road conditions as they travel, while supervisors should have an idea where their drivers are at all times. There might be a difference between what the dispatcher sees on the screen and what the driver sees in real-time, so two-way communication is highly necessary.
5. Stop from a distance if there's a protest ahead
If you notice a protest happening ahead, stop from a distance to keep not only you safe but also the protesters. Don't try driving near the obstruction—check for a detour and quickly maneuver your truck, if possible, away from the area. It may not be what you originally planned, but if there's a need for you to exit the highway just so you can avoid the riots, then do so with extreme caution.
6. Stay in the vehicle
For drivers who get caught in a protest, slowly stop your vehicle and stay inside. Lock all the doors and remain calm. If rioters start climbing on the side of the truck and smashing the windows, do not panic.
While your first instinct is to pull away, avoid the urge because you never know if there are protesters that may become lodged in between the trailers and got run over. This is exactly what happened to one of the protesters in St. Louis—he was dragged for five blocks before the FedEx trucker stopped. FedEx has since released a statement and offered its sincere condolence to the family of the deceased.
7. Try to weave out of harm's way slowly
If there's no obstruction ahead, slowly try weaving out of harm's way. Make sure not to accelerate your vehicle so as not to put yourself and protesters at risk. Also, you must not stop or try getting off the truck to avoid confrontation with protesters.
Drivers should continue driving really slow to avoid injuring anyone. If you have a dash camera, check if it is recording, so you'll have evidence to present in case anything worse happens. You can also get your phone and notify law enforcement or call 911 for help.
8. Practice restraint, and only retaliate as a last resort
Keep in mind that retaliation should be your last resort. If you ever find yourself in an extremely dangerous situation, you can use force if necessary. Some truck drivers carry cans of wasp spray, tire thumpers, hammers, or heavy-duty flashlights and use them if the need arises.
Meanwhile, drivers carrying guns must ensure their permits are up-to-date. They could be in big trouble if they are carrying these weapons with expired permits. Any driver should also refrain from drawing a gun and pulling it on someone unless his life is gravely threatened.
While transporting and movement of goods is highly essential during this pandemic, no load is worth anything if your trucker cannot return safely due to violent protests. Be sure to follow these steps to the T because making safe decisions is everyone's responsibility, from trucking companies to truck drivers.